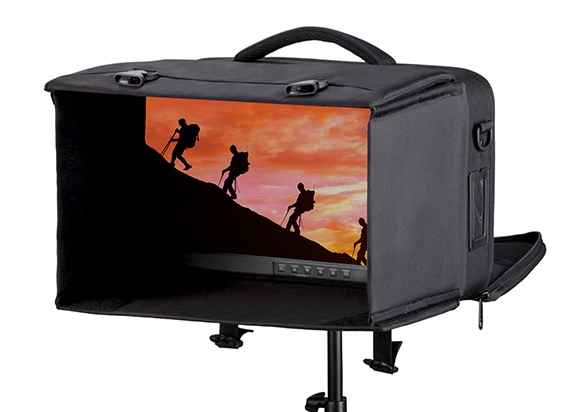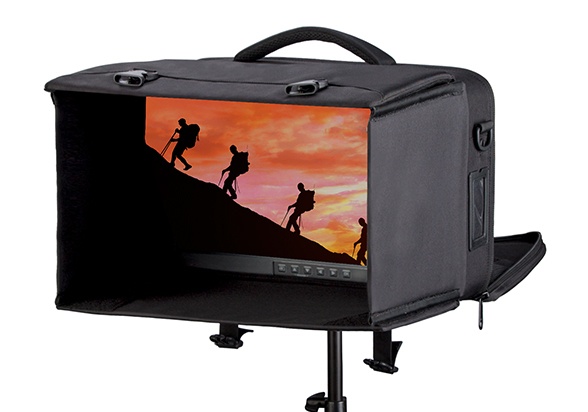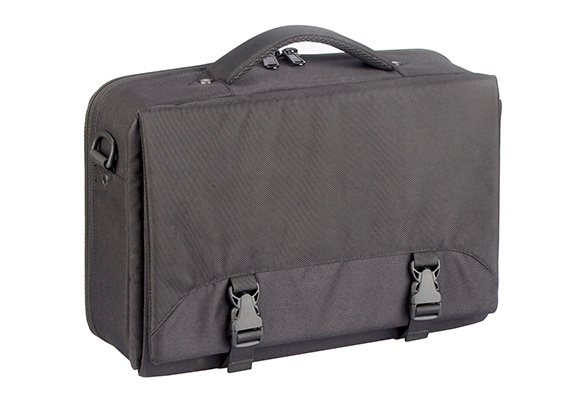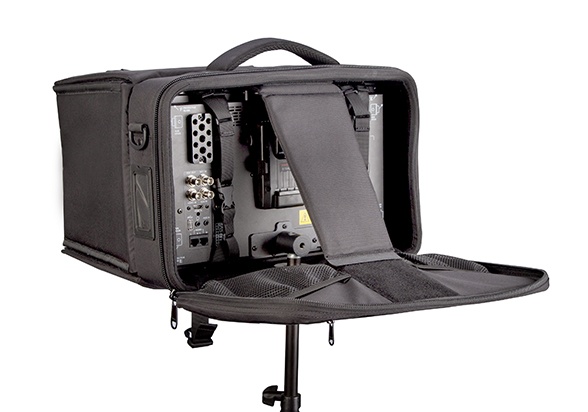 › 15.6" 1920×1080 non-glaring LCD
› 10-bit LCD, 12-bit internal process
› 3G/HD/SD-SDI, HDMI input & output
› Build-in multi-camera logs to Rec.709
› DIT user 3DLUT cube upload by USB
› Waveform / Vector scope / Histogram
› 16-ch embedded audio meters
› Peaking focus assist with precision adjustment
› Exposure assist / Zebra / Blue only
› USB firmware upgrade
› V-mount or 4-pin XLR or AC input
› Shipping with Portable bag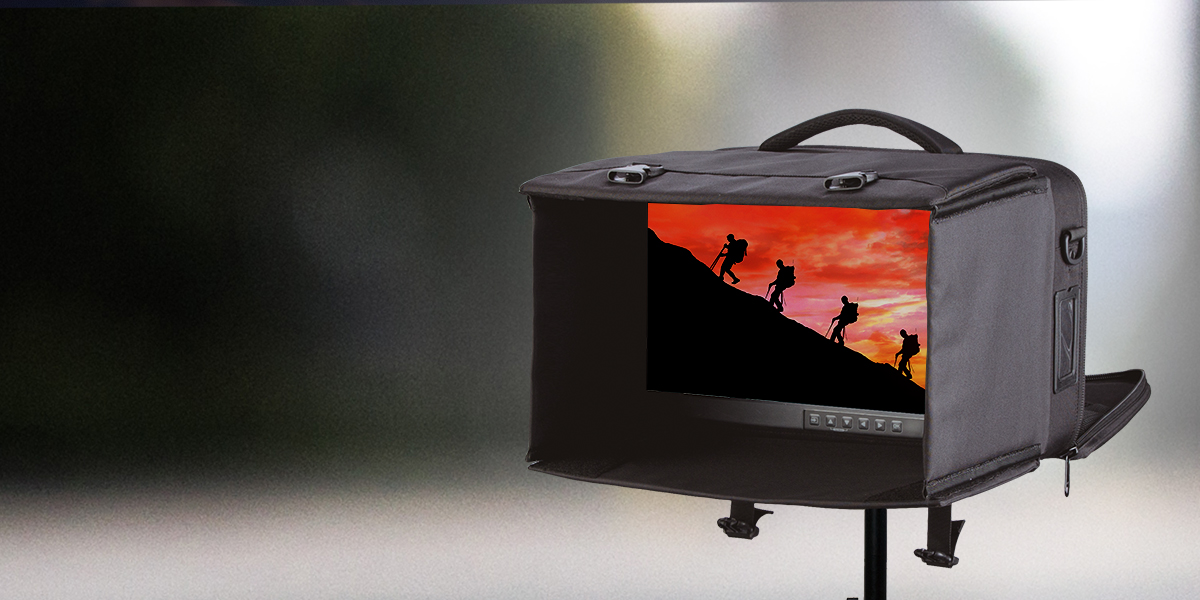 15.6-inch Full HD 10bit LCD
The FM-16B monitor adopts a 15.6 inch 10 bit LCD panel with LED backlight, 300nits brightness. The native resolution is Full HD 1920×1080, contrast 700:1, and viewing angle is Horizontal: 178° / Vertical: 178°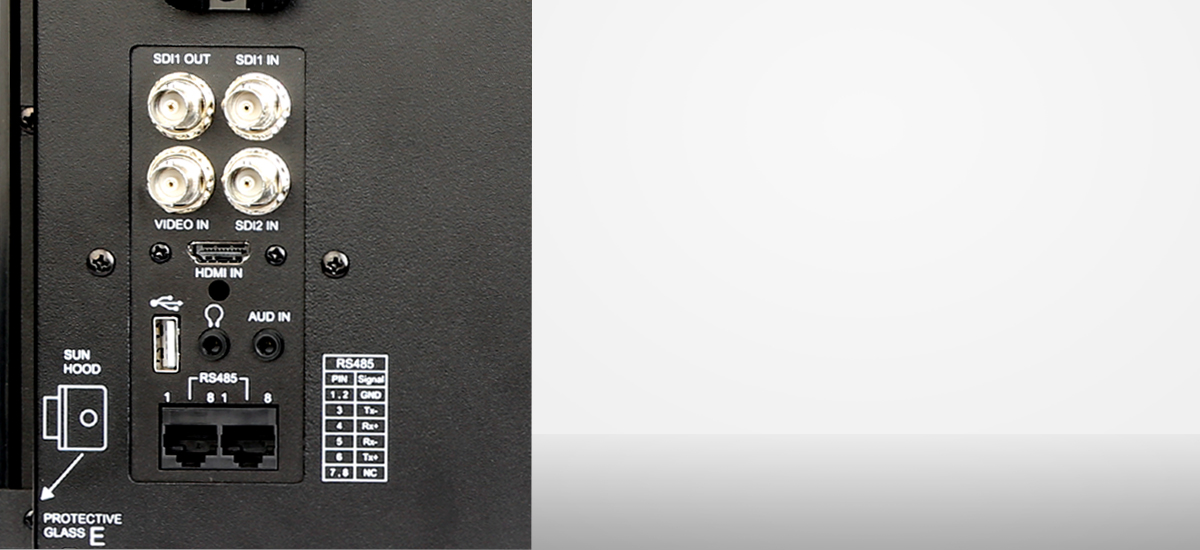 Input/Output Interfaces
3G-SDI, HDMI
FM-16B monitor supports:

3G/HD/SD-SDI input × 2
3G/HD/SD-SDI loop output × 1
HDMI 1.3 input × 1
3.5mm analog audio input × 1
3.5mm analog audio output × 1
RS485 UMD input × 1
RS485 UMD output × 1
USB-A LUT/Firmware input × 1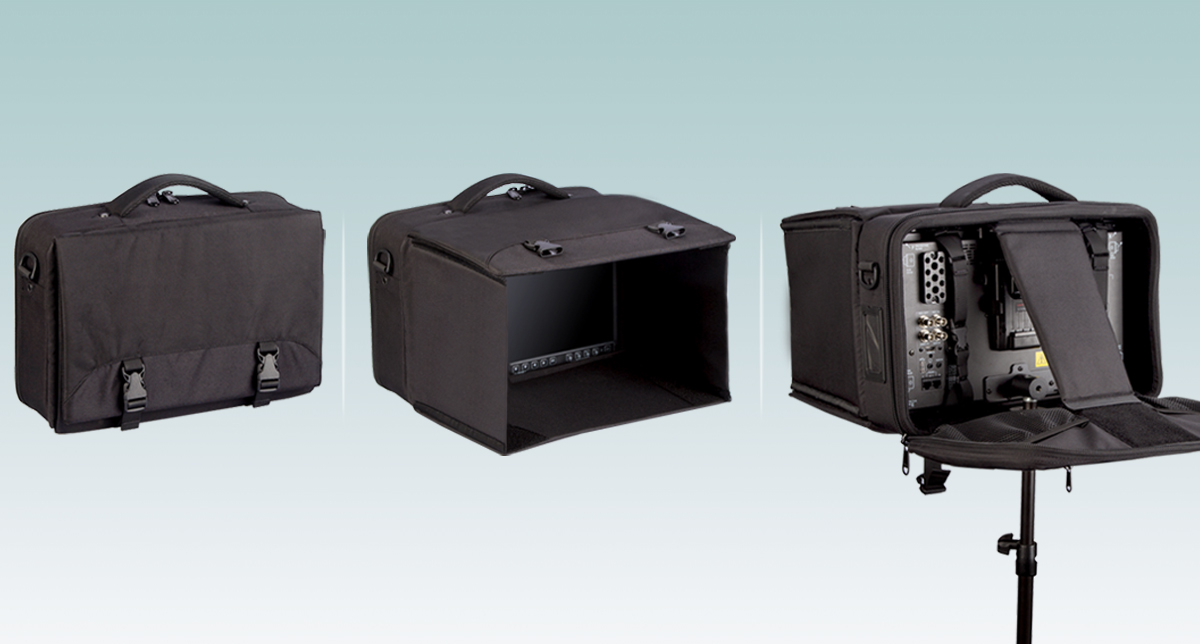 Shipping with Bag
C-stand installation
FM-16B ships with a portable bag, and the front cover can be used as sun hood.
The monitor with bag can be directly installed onto C-stand.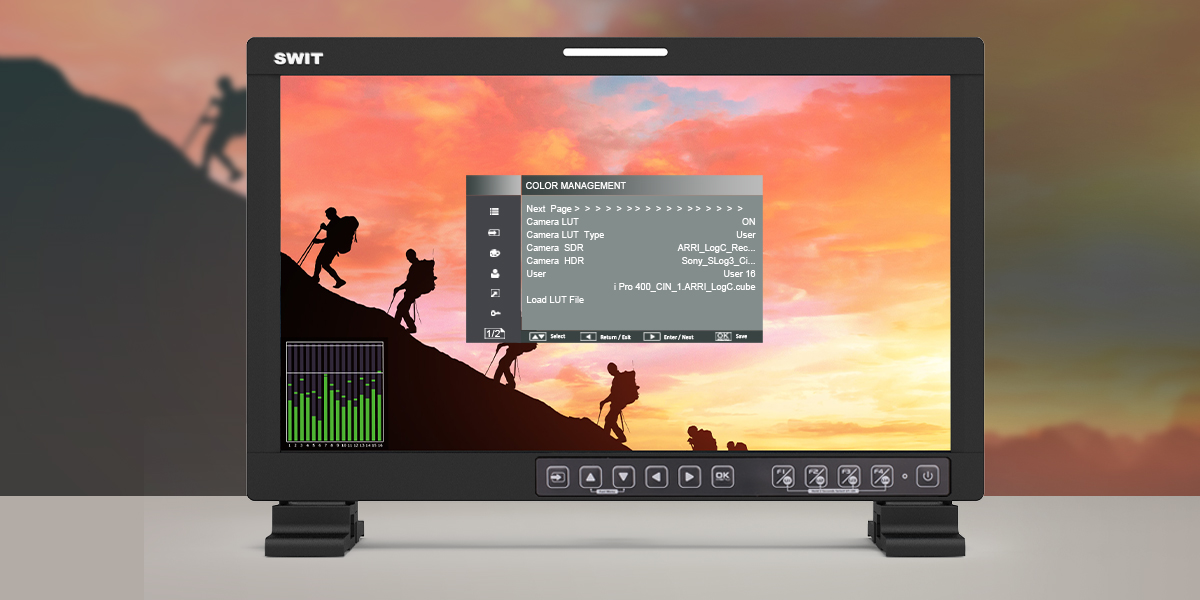 Built-in De-log 3DLUTs
DIT user 3DLUT cube upload
FM-16B provides more than 20 De-log 3DLUTs to convert log mode to REC709 for all major cameras.
Includes ARRI, RED, SONY, Panasonic, Canon, JVC, BMD, FujiFilm, GoPro, DJI.

And the user 3DLUT cube or calibrated 3DLUT cube can be uploaded by USB stick.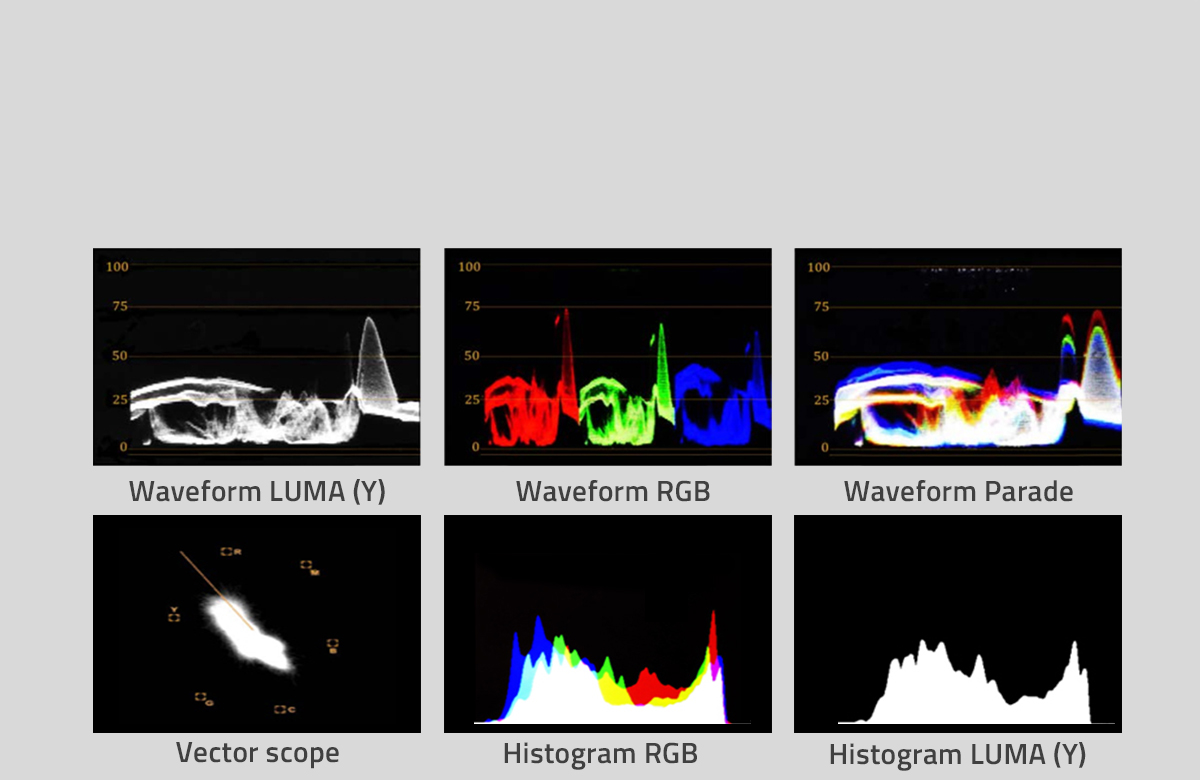 Video Analysis Assistant Pattern
Waveform / Vector scope / Histogram
FM-16B supports video analysis assistant patterns includes: Waveform (Y/Pb/Pr/R/G/B), Vector scope, Histogram (R/G/B/Y), to convert the digital video quality info (Luma, Color, Saturation, etc) to patterns, and the patterns can be switched on/off individually, select display position (Up/Down/Left/Right), size, color, and translucence.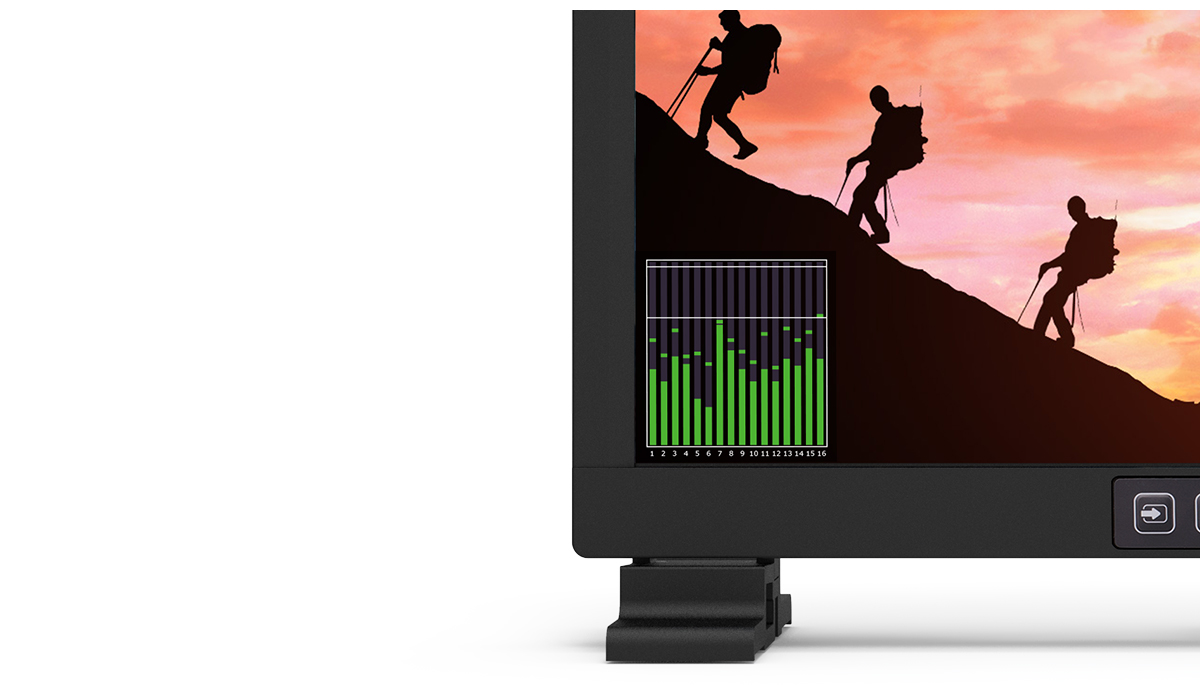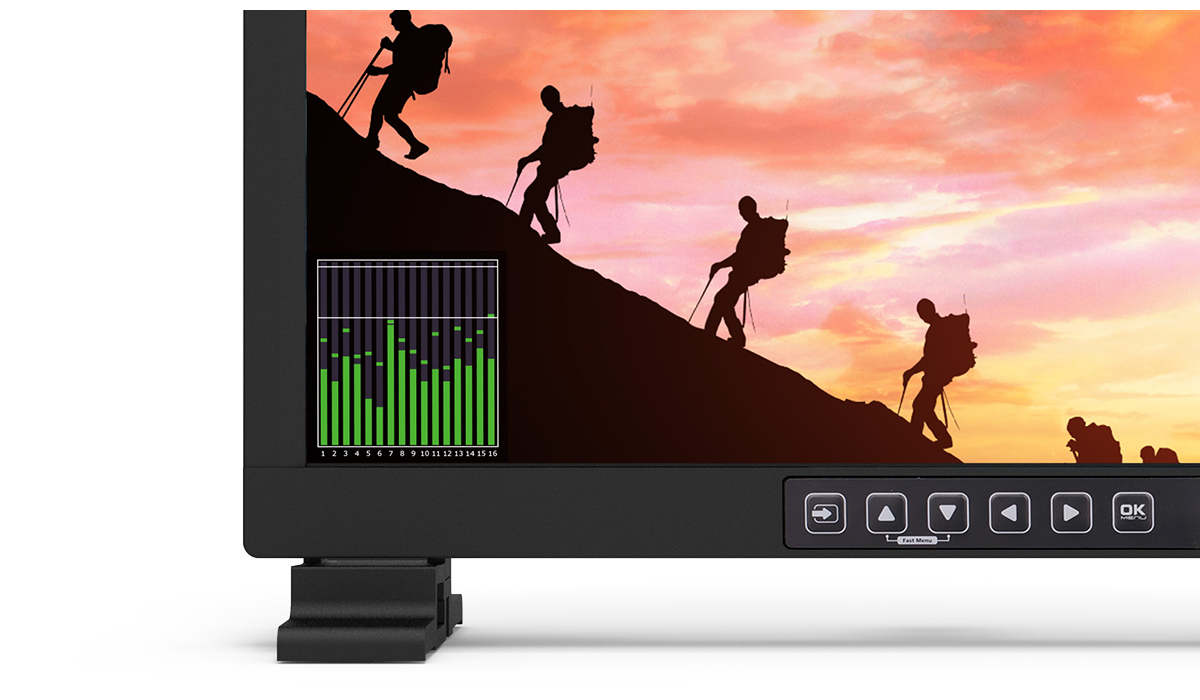 Embedded audio monitoring
Up to 16-ch meters
The monitor can display 16-ch embedded audio meters.
The display mode can be:
1. CH1-2
2. CH1-16
3. CH1-4 and CH5-8
4. CH1-4 and CH9-12
5. CH1-4 and CH13-16
6. CH5-8 and CH9-12
7. CH5-8 and CH13-16
8. CH9-12 and CH13-16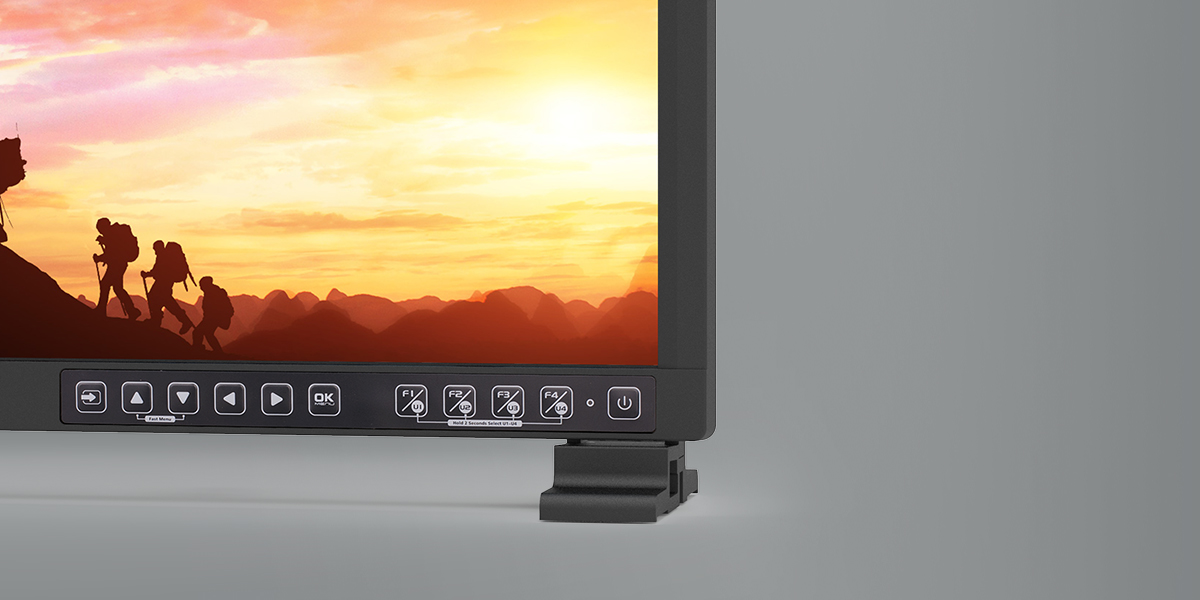 Function Keys Assign
4 User Presets of Function Keys restore
There're 4 F-keys to assign different functions, and you can make independent assignments and restore in 4 User Profiles. Long Press F1/U1, F2/U2, F3/U3, F4/U4 button to recall User 1/2/3/4 with different F1/2/3/4 assignments.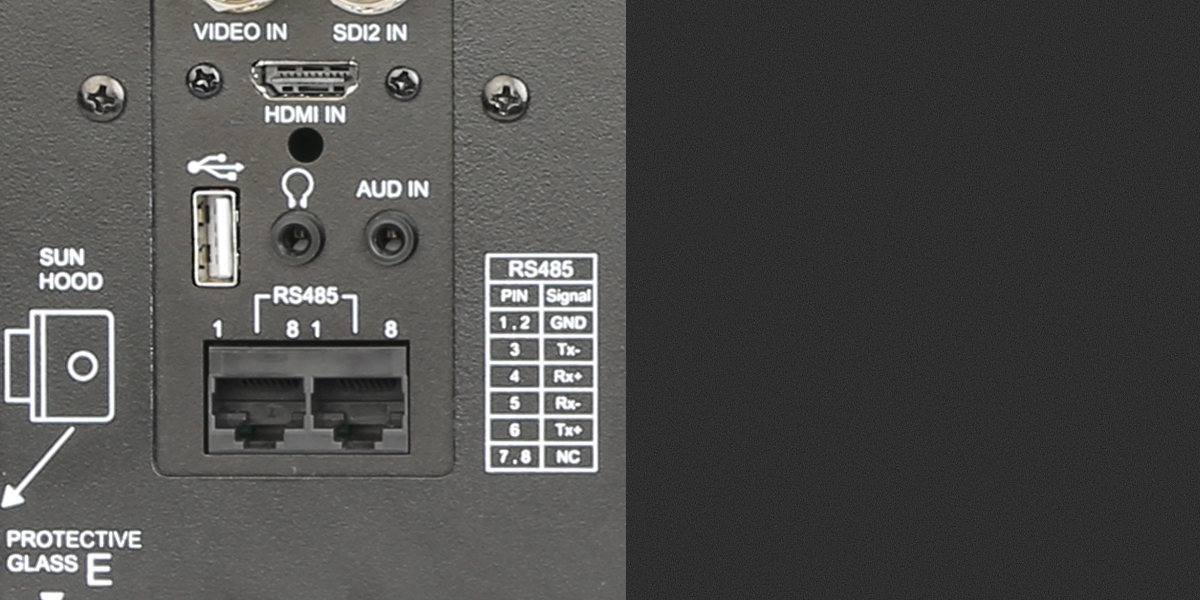 TSL UMD and TALLY
FM-16B supports TSL 3.1 and 4.0 protocol UMD display and front TALLY light via RJ45 (RS485) port in the rear panel, input and output.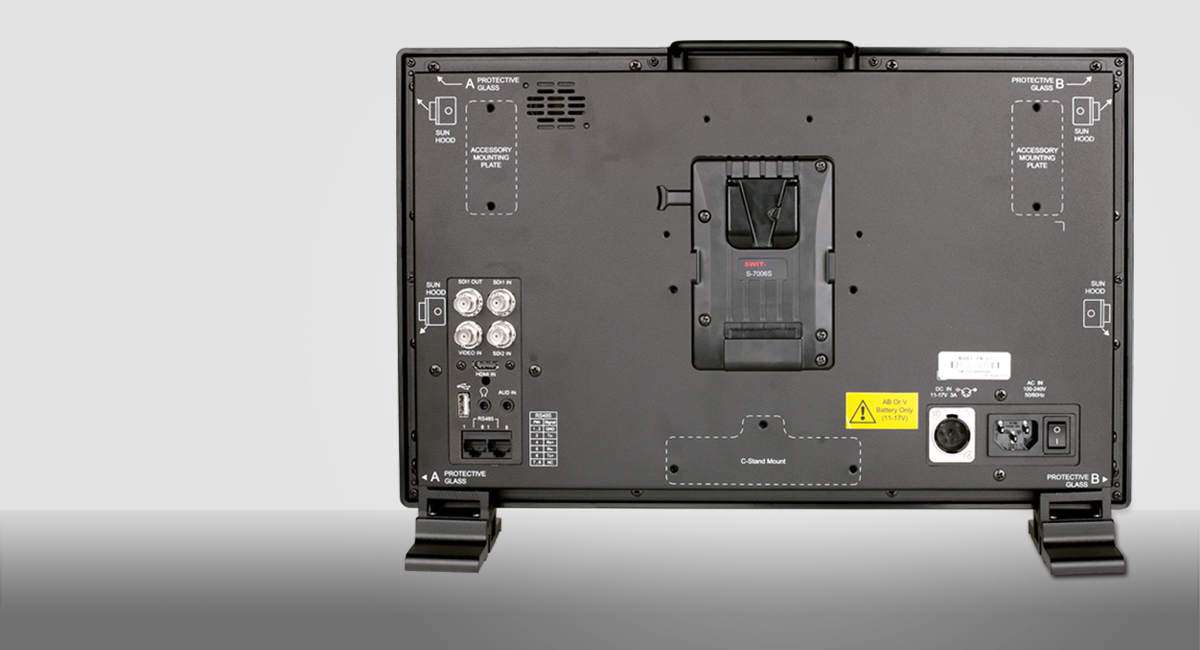 Various Power Input
V-mount / 4-pin XLR / AC
FM-16B provides 11-17V 4-pin XLR input and 100-240V AC input.
A V-mount plate is pre-installed so that you can attach V-mount battery to power the monitor via D-tap to 4-pin XLR cable.

The power consumption is 19W.

LCD Performance
| | |
| --- | --- |
| Size | 15.6 inches |
| Display area | 344.16×193.59mm |
| Resolution | 1920×1080 |
| Aspect ratio | 16:9 |
| Brightness | 300cd/m2 |
| Contrast | 700:1 |
| Color | 10bit 1.073G colors |
| Viewing angle | Horizontal: 178°; Vertical: 178° |
Input
| | |
| --- | --- |
| BNC ×2 | 3G/HD/SD-SDI input |
| BNC ×1 | CVBS input |
| HDMI ×1 | HDMI 1.3 input |
| 3.5mm ×1 | Analog audio input |
| USB ×1 | User LUTs upload and Firmware upgrade |
| RS485 ×1 | TSL 3.1/4.0 input |
Output
| | |
| --- | --- |
| BNC ×1 | 3G/HD/SD-SDI loop output |
| 3.5mm ×1 | SDI, HDMI embedded audio and analog output |
| RS485 ×1 | TSL 3.1/4.0 output |
Video Format
SDI

1080p (60 / 59.94 / 50)

1080i (60 / 59.94 / 50)
1080p (30 / 29.97 / 25 / 24 / 23.98)
1035i (60 / 59.94)
1080psf (30 / 29.97 / 25 / 24 / 23.98)
720p (60 / 59.94 / 50)
480i (59.94)
576i (50)

HDMI

480i/ 576i / 480p / 576p
1080i (60 / 59.94 / 50)
720p (60 / 59.94 / 50)
1080p (60 / 59.94 / 50 / 30 / 29.97 / 25 / 24 / 23.98)
General
| | |
| --- | --- |
| Input voltage | DC / battery 11V-17V 3A, AC 100-240V, 50/60Hz |
| Power consumption | 19W |
| Working temperature | 0°C~+50°C |
| Working humidity | 10%~90% |
| Storage temperature | -15°C~+60°C |
| Storage humidity | 10%~90% |
| Dimensions | 383×242.3×68.4mm |
| Net weight (main body) | Net 4.2kg; With package 7.5kg |