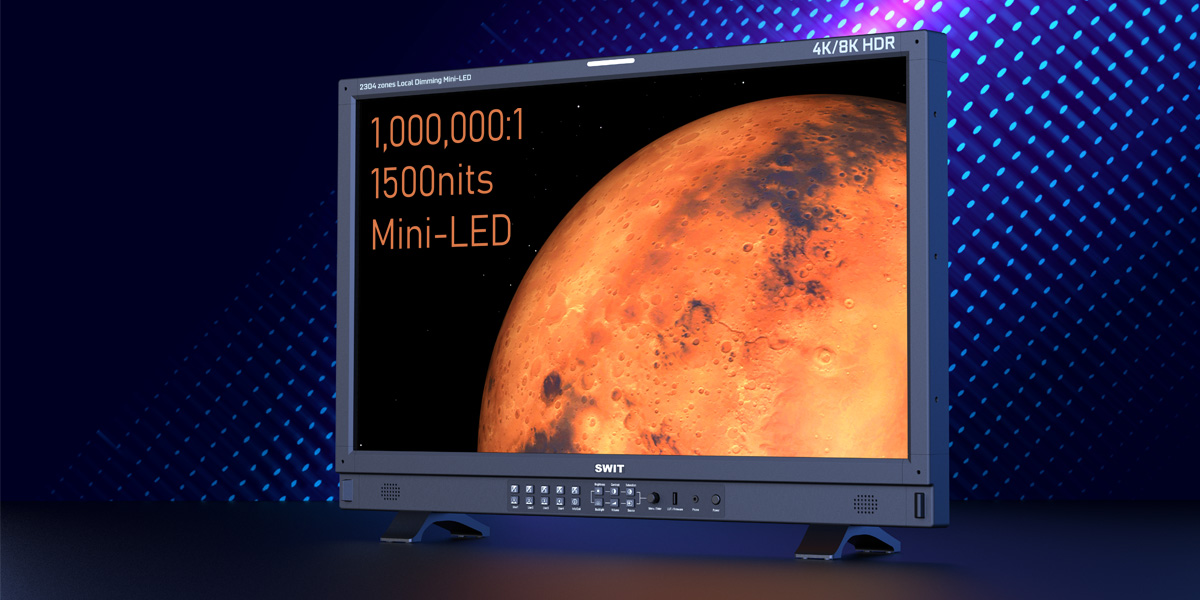 SWIT released the new 4K HDR professional monitor with SWIT's unique Mini-LED panel tech, which features 1500nits high bright and 1,000,000:1 contrast ratio, full viewing angle to display brilliantly bright and impeccably dark HDR contents. The monitor has 4x 12G-SDI inputs and supports 4K ST2110 IP for broadcast productions, as well as film post productions.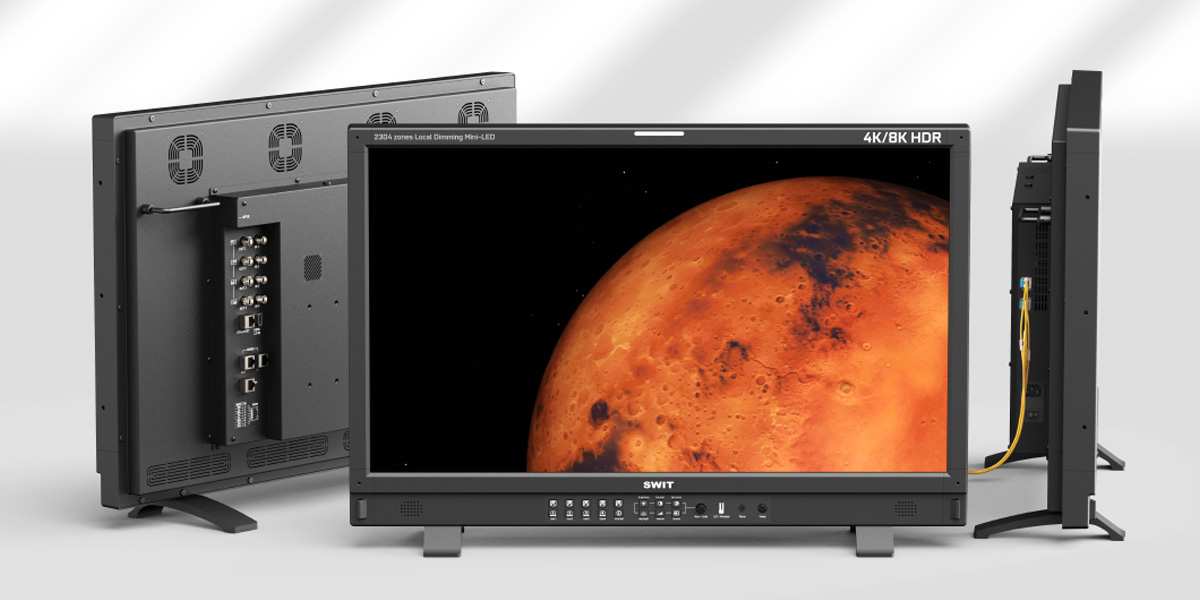 BM-U325MD - 12G-SDI 4-in 4-out, HDMI 2.0 in, Optional HD ST2110 SFP input

BM-U326MD - 12G-SDI 4-in 4-out, HDMI 2.0 in, Integrated 4K ST2110 2x SFP28 inputs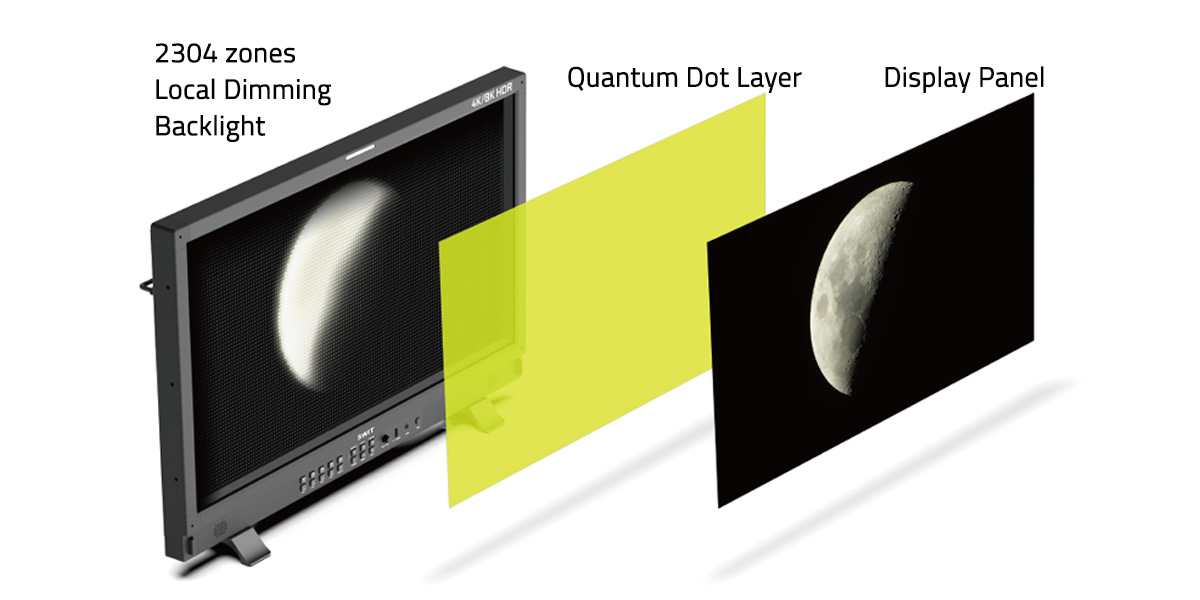 SWIT unique 2304 zones local dimming Mini-LED panel
31.5-inch 3840×2160 UHD, 2304 local dimming zones. Each zone has 4 SMD LEDs, and takes 60×60 pixels, about 1.1×1.1cm area. Between the display panel and backlight, there's a dedicated Quantum Dot Layer (QLED tech), to excite pure color and raise color gamut range of the screen.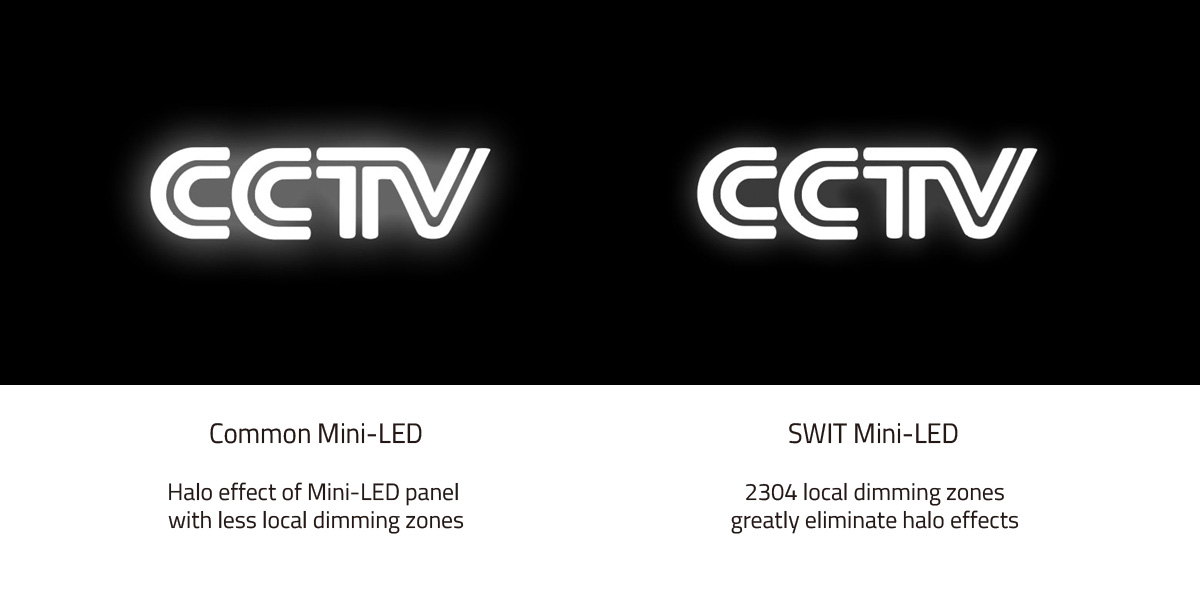 Eliminates Halo Effect

The common Mini-LED panel has less local dimming zones and will display halo effect around the high bright pixels.

SWIT dedicated Mini-LED panel has more than 2304 local dimming zones, with precise backlight control and grealy eliminate halo effects.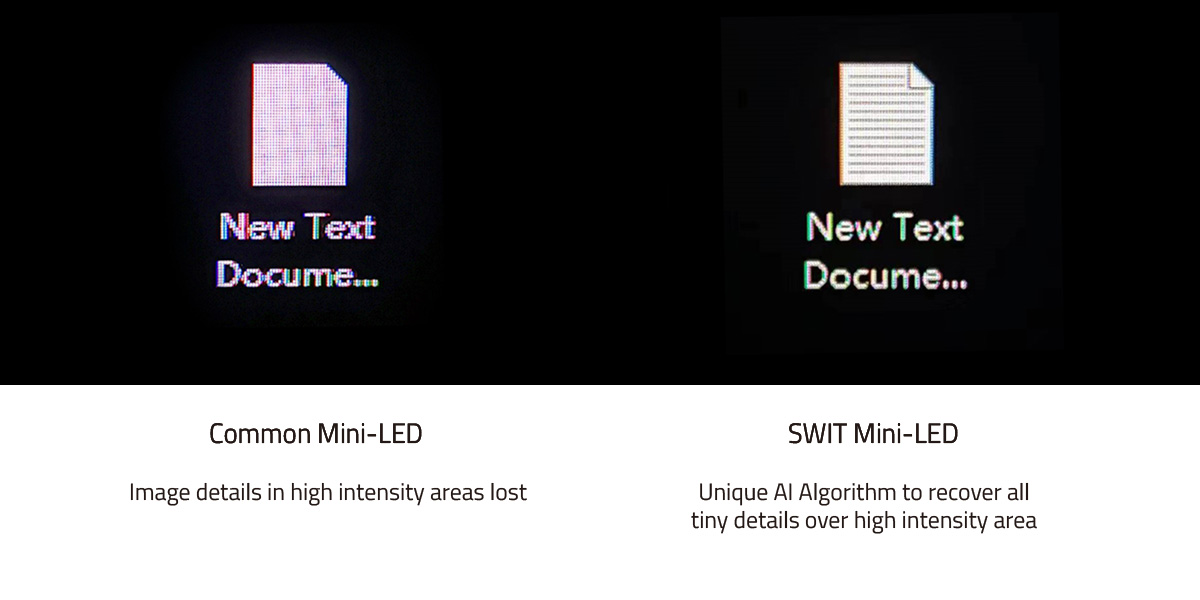 SWIT AI compensator Algorithm
The common Mini-LED panel can't reproduce image tiny pixels in high backlight intensity area, and always lost image details.

SWIT's innovative artificial intelligence tech, massive learning of typical video images, enhancing and compensating for the pixels, to recover all tiny details over high intensity backlight area.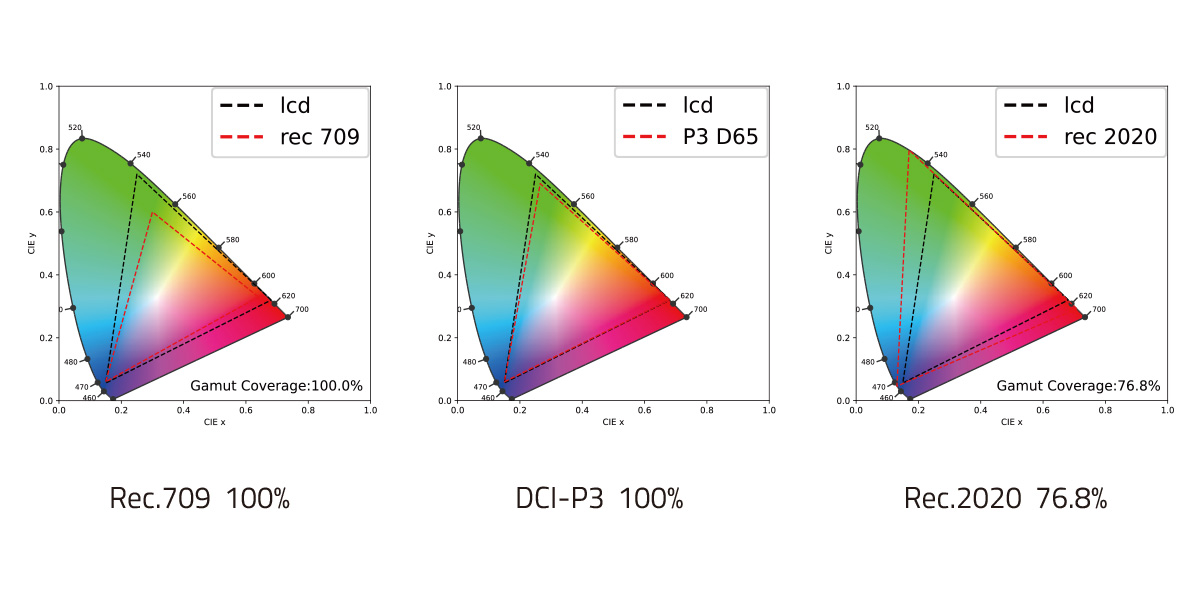 Color Gumut: 100% Rec.709; 100% DCI-P3; 76.8% Rec.2020.
The VICO (Visual Health and Comfort) testing scores 1.97, A class, to protect your eyes from long time video productions.


4K/8K UHD inputs
The BM-U325MD and BM-U326MD support Single link 4K and Quad link 4K & 8K inputs, both SQD and 2SI modes.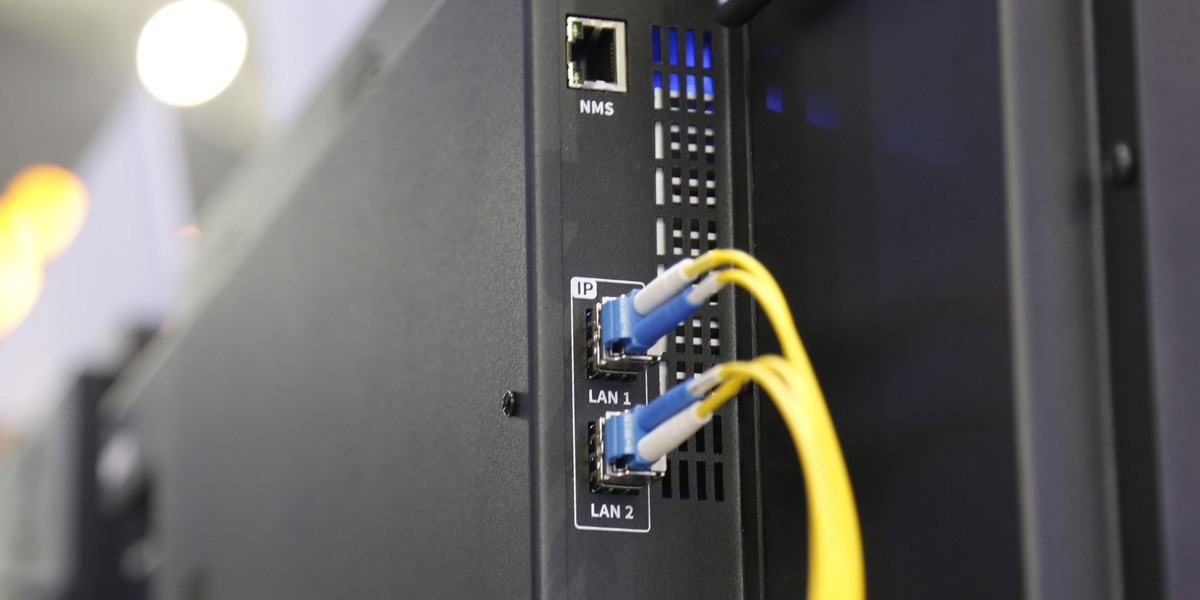 Integrated 4K ST2110 IP
BM-U326MD has built-in ST2110 IP receiver, support up to 4K 60p, and provide 2×SFP28 25G Base slots for backup, with clean switch and hitless failover. Support ST2110-20/21/22/30/40, and RJ45 LAN connection IP webpage configuration.

Quadview, PBP and PIP
4x input sources mixed formats quadview with independent Waveforms/Audio meters/Gamma/Color Gamut/UMD settings, and 2x input sources Pic-by-Pic or Pic-in-Pic display.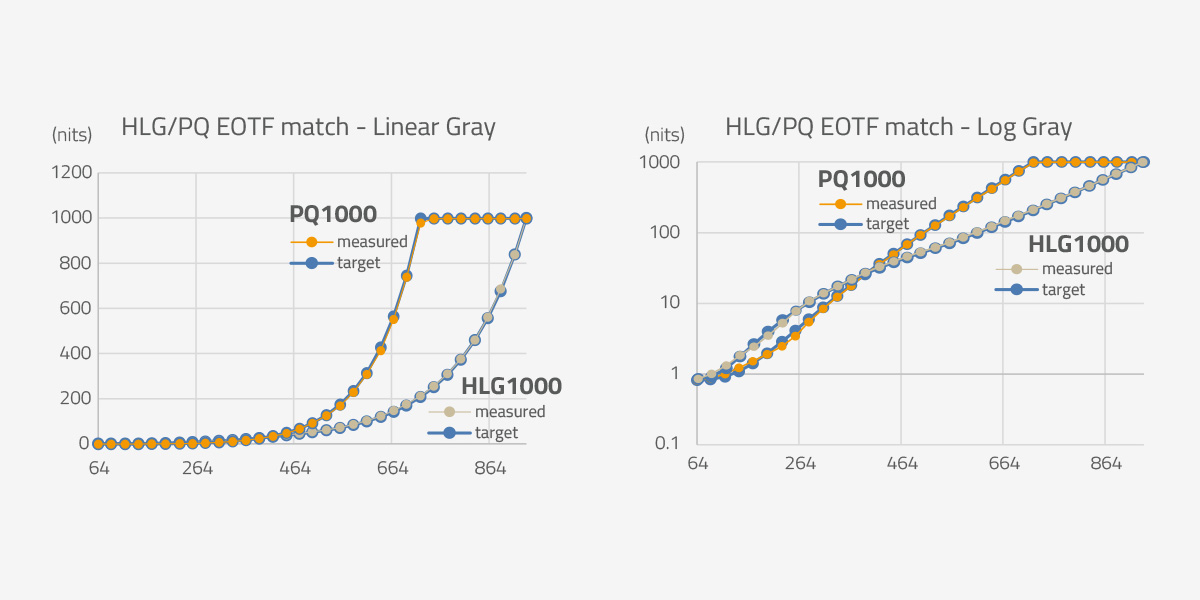 HDR/Color Gamut selection, Payload ID auto setting
Gamma 1.0/1.8/2.2/2.4/2.6 SDR or HLG/PQ/Slog3/2.4 HDR; Rec.709, DCI-P3, Rec.2020 selection; Payload ID auto set input range, color space, HDR/SDR, color gamut, etc.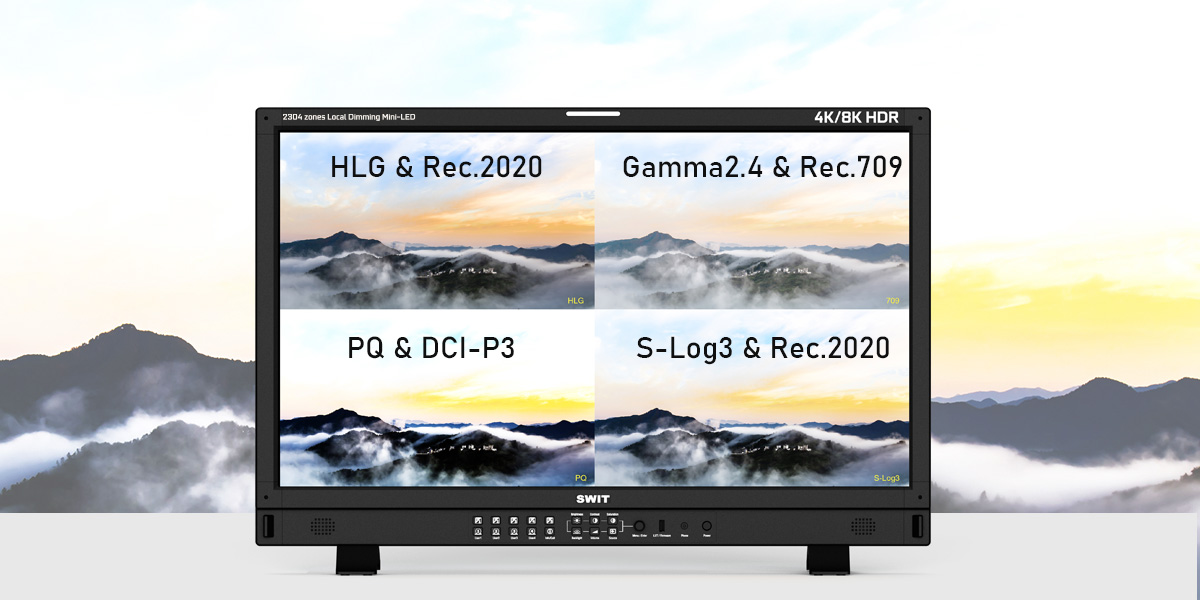 Multi Color Gamut & EOTF Viewing
Display 1 input source by 4 different HDR/SDR and color gamut simultaneously. PBP mode or Quad mode selection.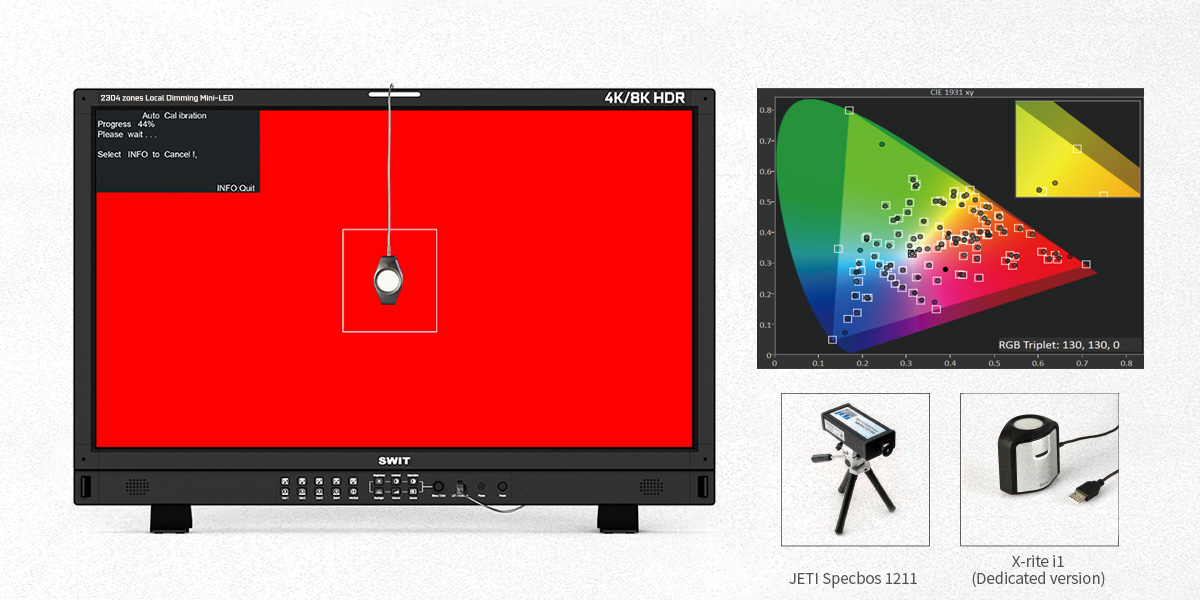 3DLUT Auto Self-Calibration
Built-in calibration software, supports X-rite i1 and JETI Specbos 1211 probes directly plug into monitor USB port to auto calibrate.
Calibration time: X-rite i1: 15min; Specbos1211: 45min
Calibration result: ΔE<1.0


SWIT BM-U325MD / BM-U326MD 4K Mini-LED HDR monitors, high bright and high contrast ratio, 4×12G-SDI 8K input and 4K ST2110 IP input, thinner and light weight, the professional choice for broadcast system integration, HDR editting, color grading and post productions.
---
Product Details