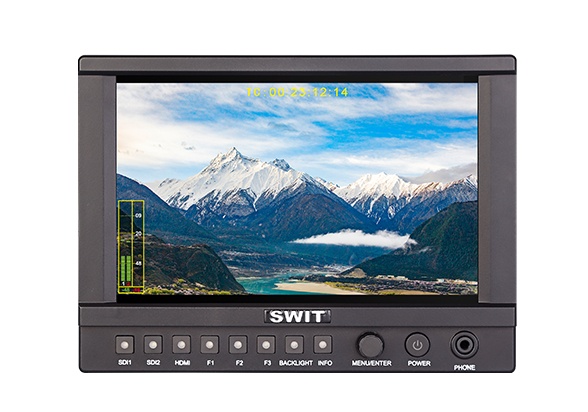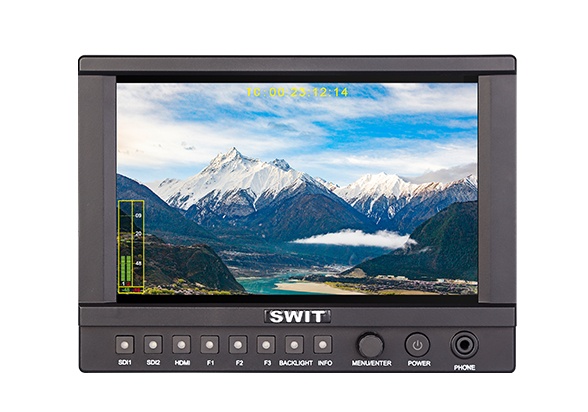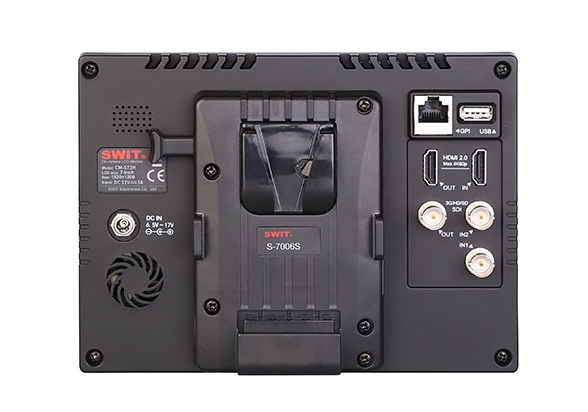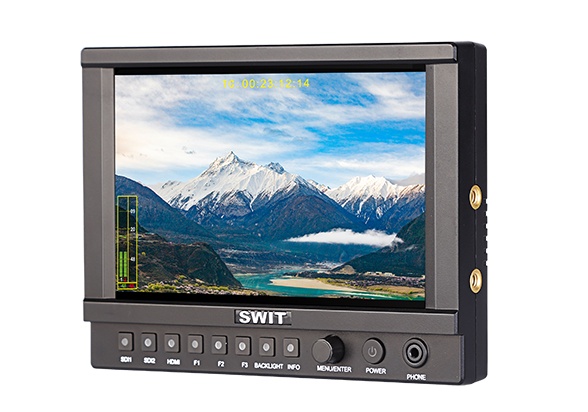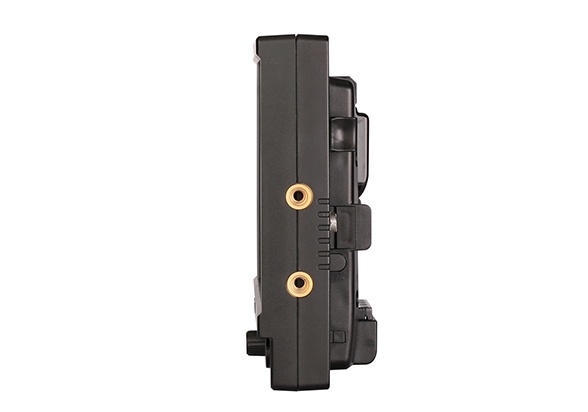 › 7" non-glaring LCD, 1920×1200 resolution
› 3000nit super high bright
› HDR capable: PQ / HLG / S-log3
› 2K/3G/HD/SD-SDI input & loop output
› HDMI 2.0 (4K60p) input & loop output
› 16-ch embedded audio meters with alert
› Select any 2 audio channels to output
› 9 steps quick zoom-in and mapping
› Focus assist with precision adjustment
› Build-in multi-camera logs to Rec.709
› User 3DLUT cube file import by USB
› On-screen TALLY display and GPI
› Zebra stripes, False color, R/G/B/Mono
› H/V delay, AFD, Timecode display
› Marker 4:3, 13:9, 14:9, 15:9, 1.85:1, 2.35:1
› V/Gold mount or various DV plates option
› USB firmware upgrade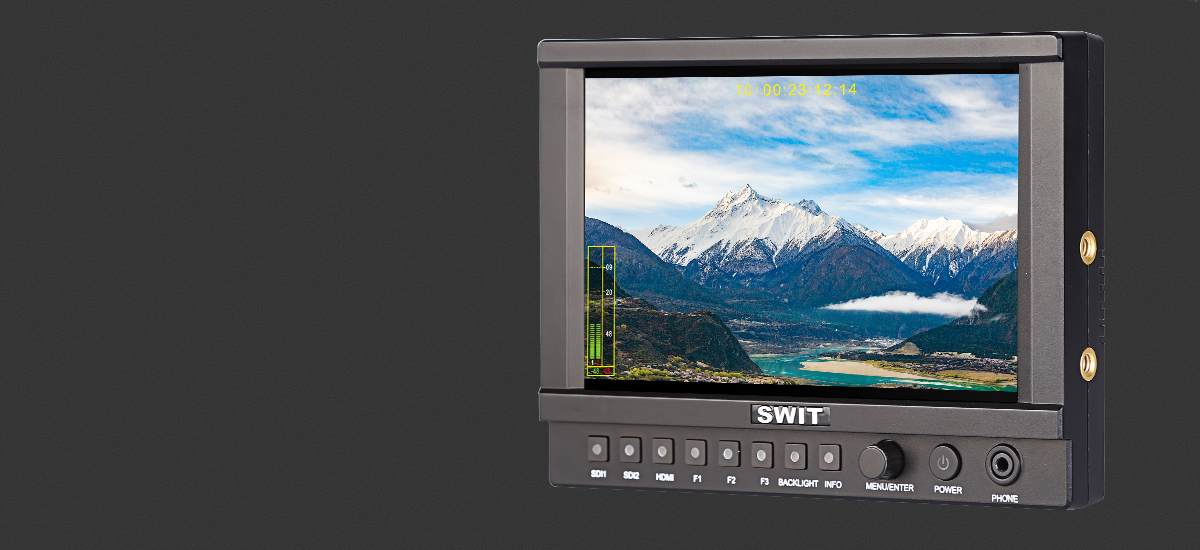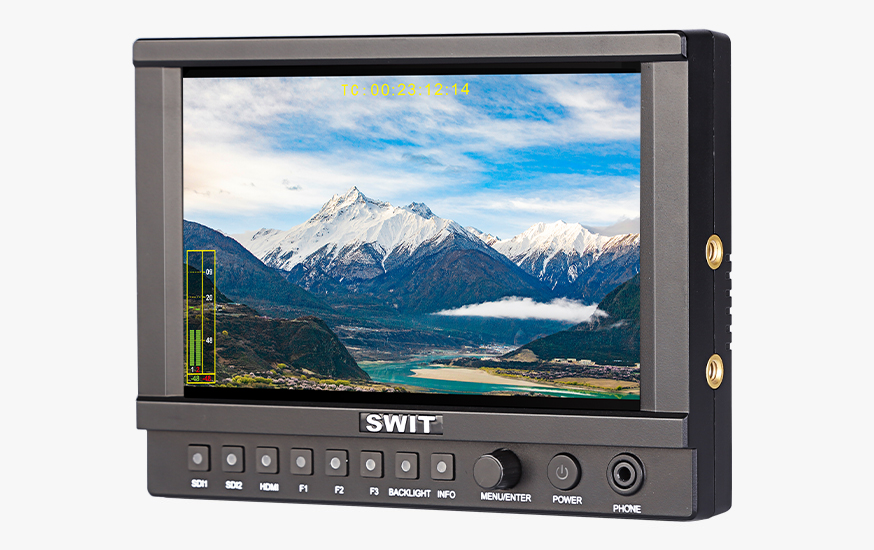 7-inch 3000nit Super Bright
PQ/HLG/S-log3 HDR capable
The CM-S73H adopts a 7-inch super high bright LCD, the Max brightness is 3000nit, viewable under sunlight, and support PQ, HLG, S-log3 HDR display.

The native resolution is Full HD 1920×1200, contrast 1200:1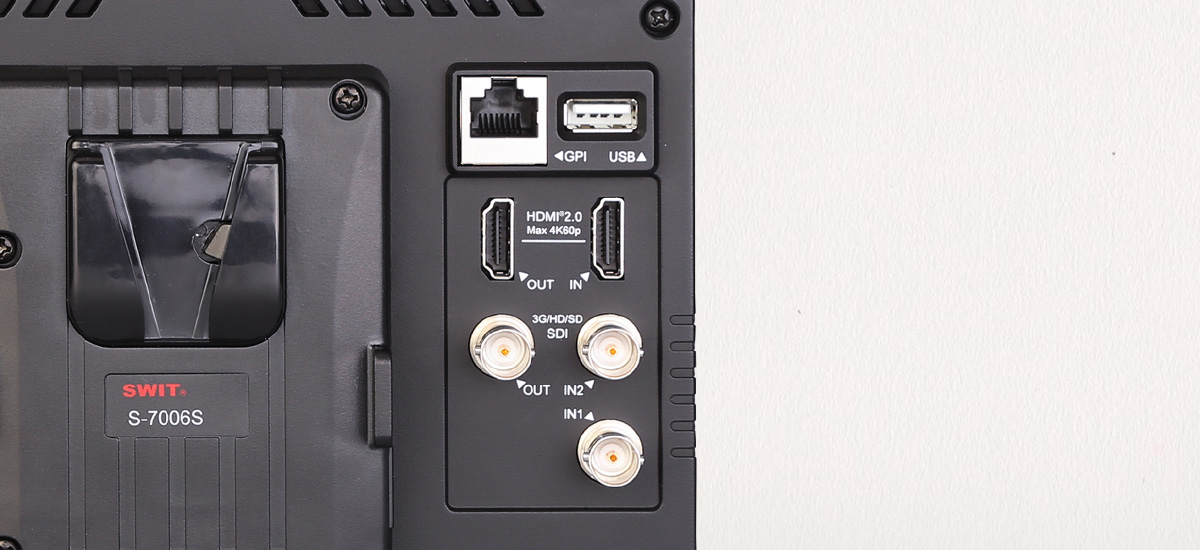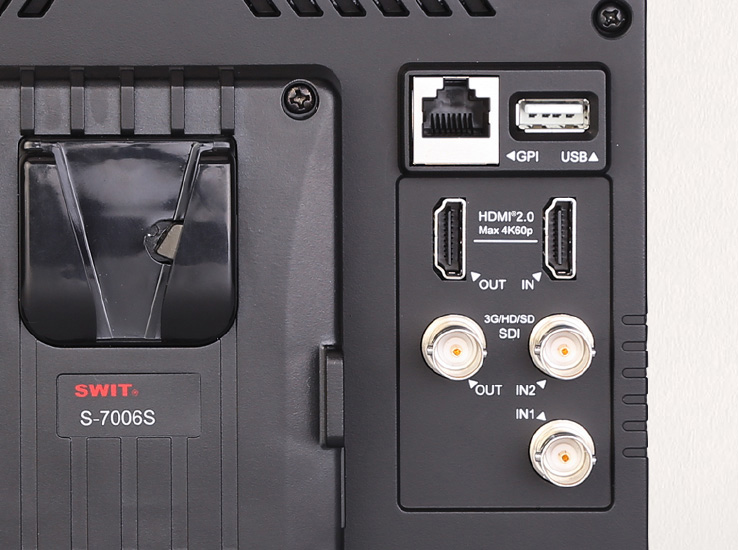 Input/Output Interfaces
3G-SDI、4K-HDMI
CM-S73H monitor supports:
2K/3G/HD/SD-SDI input × 2
2K/3G/HD/SD-SDI loop output × 1 (loop SDI IN1 only)
HDMI 2.0 (4K60p) input × 1
HDMI 2.0 (4K60p) loop output × 1
3.5mm SDI/HDMI embedded audio output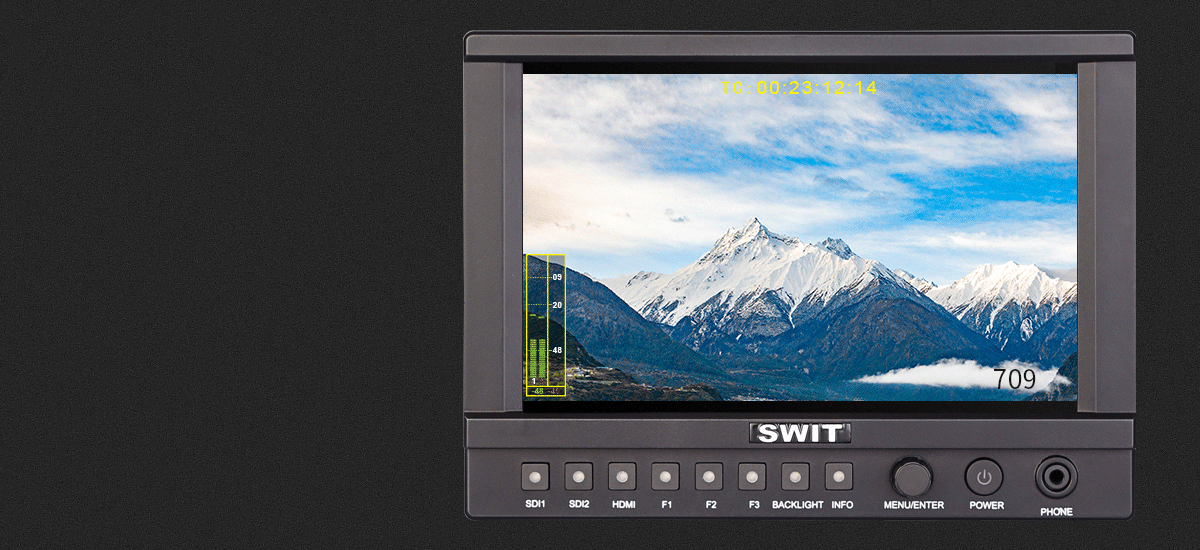 3DLUT Log to Rec709
User LUT cube import
CM-S73H monitor has built-in camera logs to Rec 709 conversion LUTs, including Log-C, C-log, S-log2, S-log3, V-log, J-log1, RedLogFilm. You can also import own 3DLUTs to monitor by USB stick, support 17x17x17 3DLUT cube files.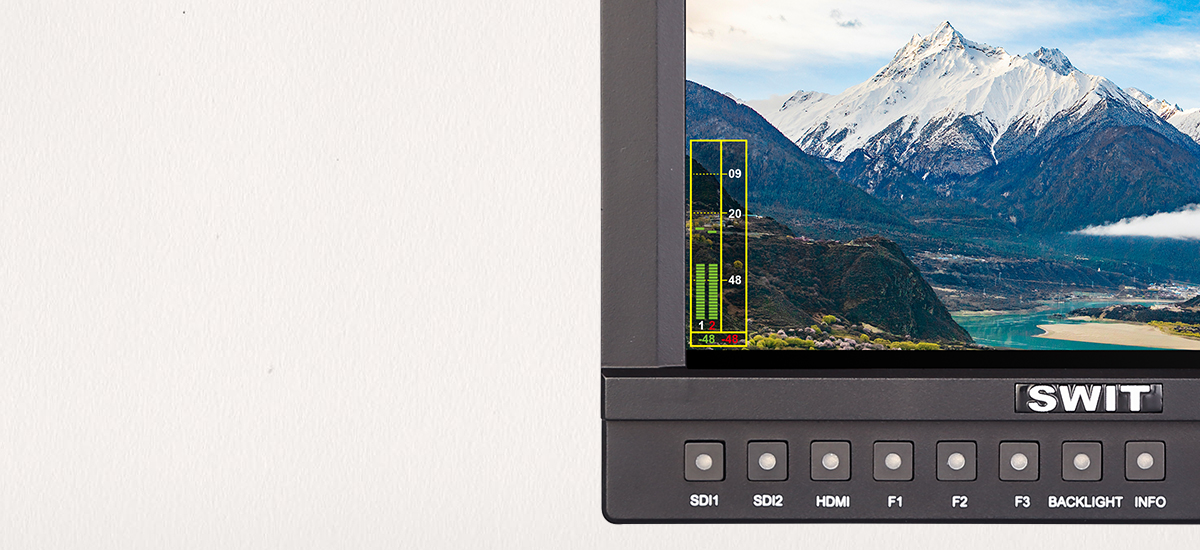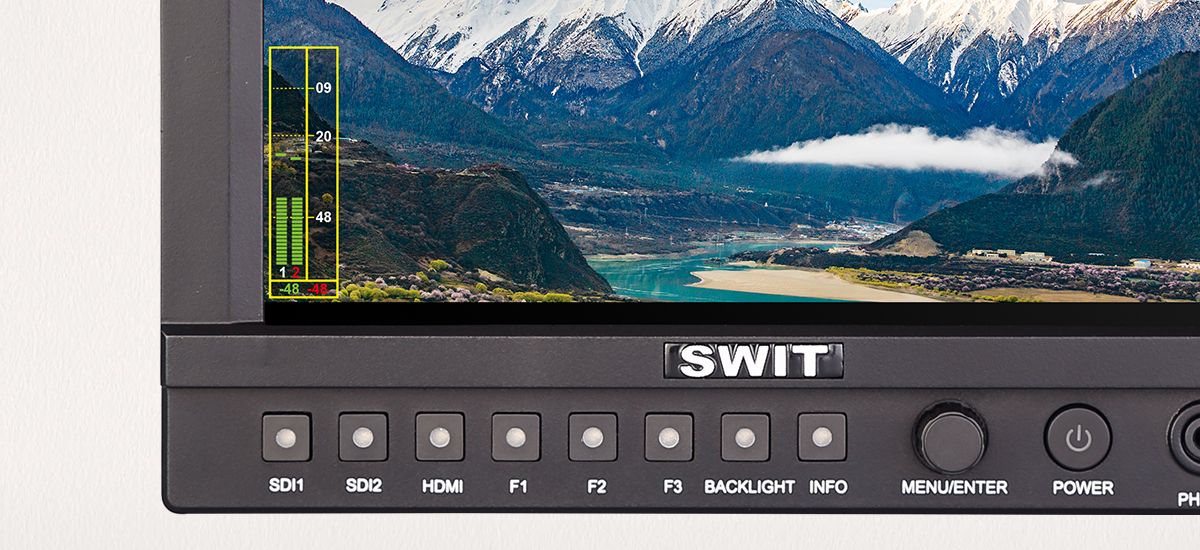 Embedded audio monitoring
Up to 16-ch meters with alert and select output
CM-S73H supports SDI-16ch and HDMI-2ch embedded audio meters display, with marks and audio abnormal alert info. Users can also select any 2 channels audio to output via 3.5mm socket or speakers. The audio meter pattern position can be selected from one of four corners, and you can select to display only 2 channels, 8 channels, and full 16 channels. Also scale markers, alert info, and translucent of the audio meter pattern are selectable.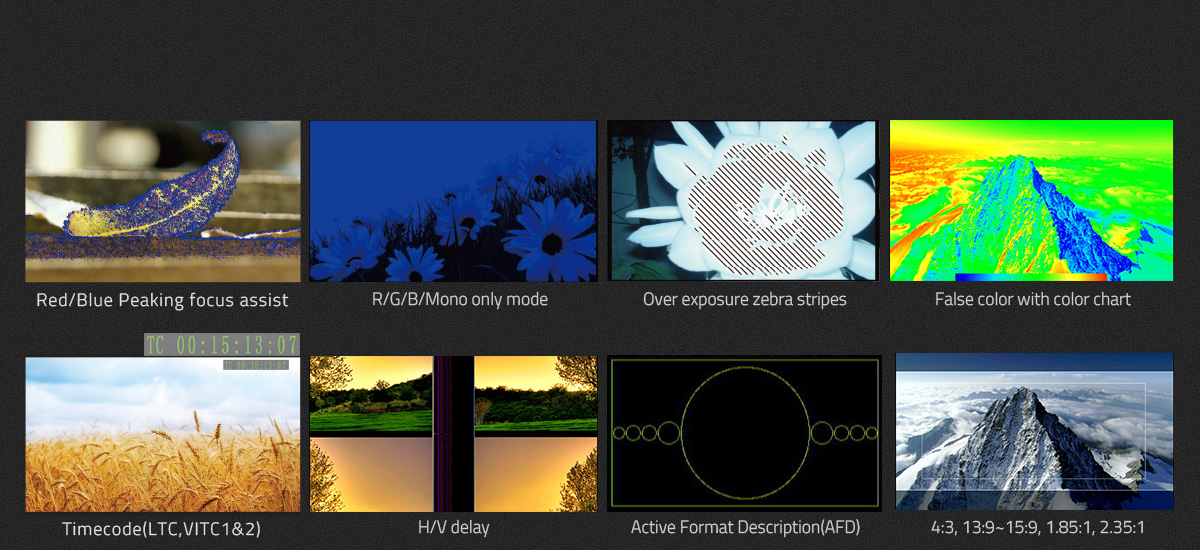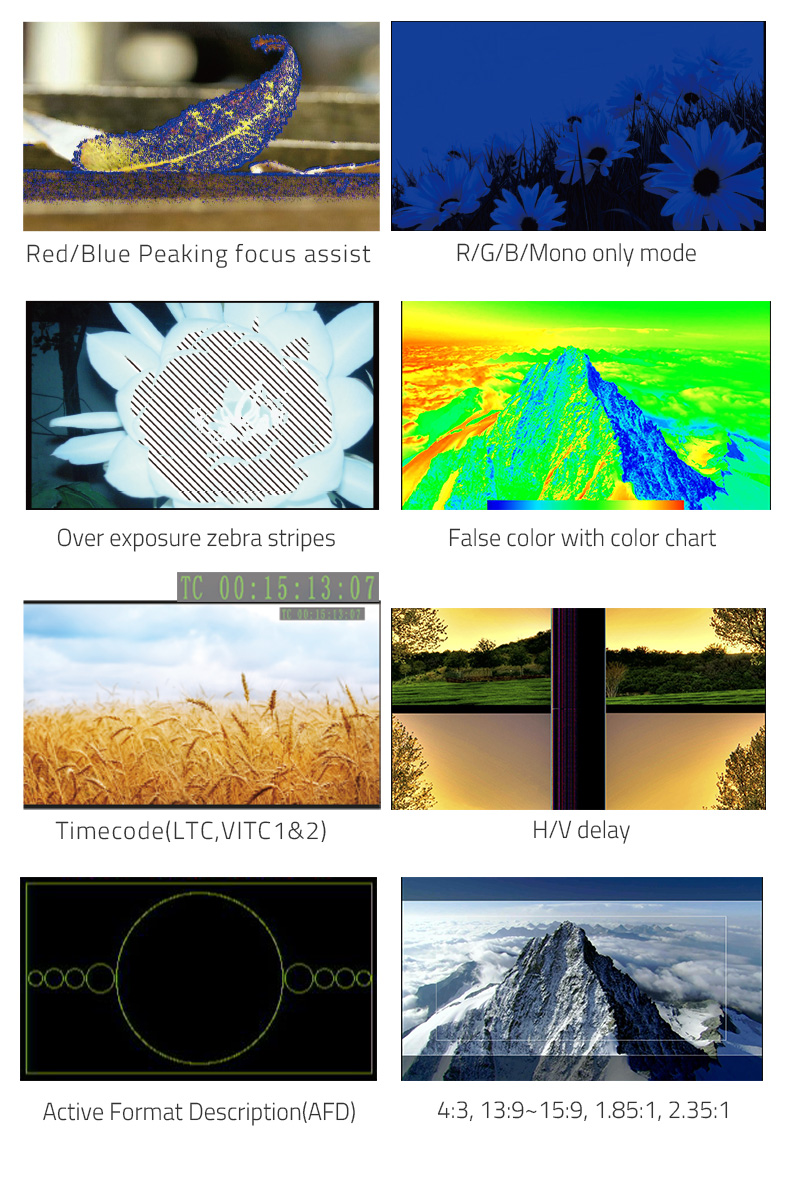 Peaking, R/G/B/Mono only, Zebra, False color
Timecode, H/V delay, AFD, Scale Markers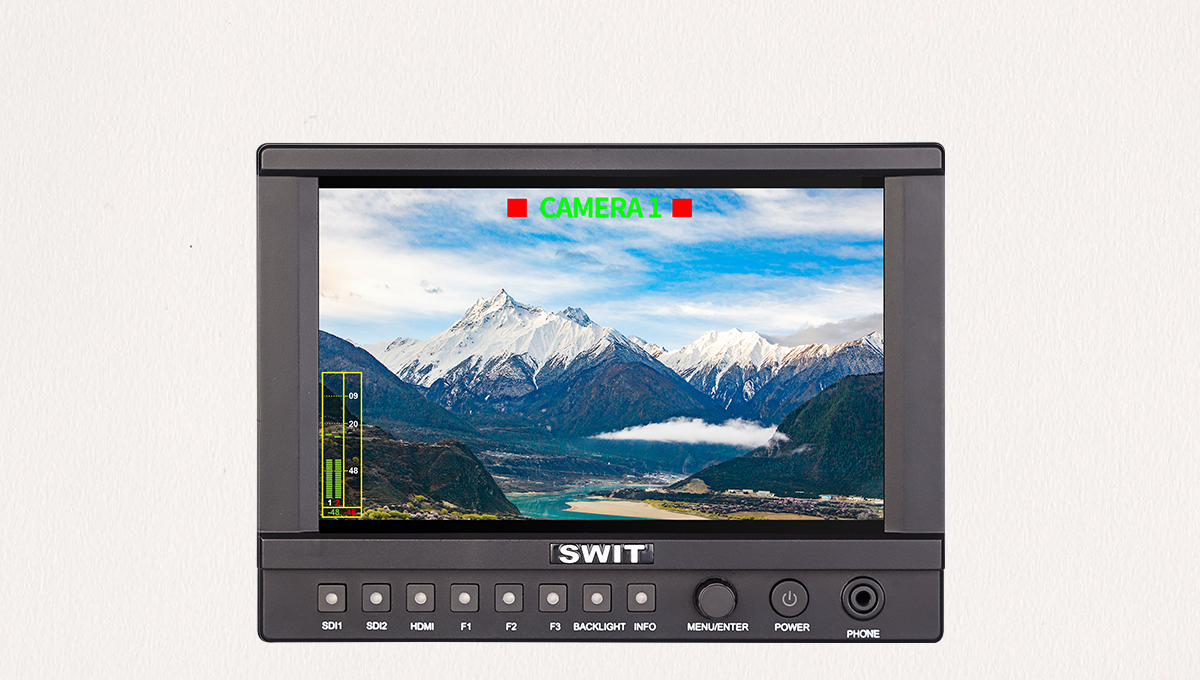 On-screen Tally
CM-S73H supports on-screen TALLY display, and the TALLY control signal inputs via GPI(RS485) port on the rear panel of the monitor.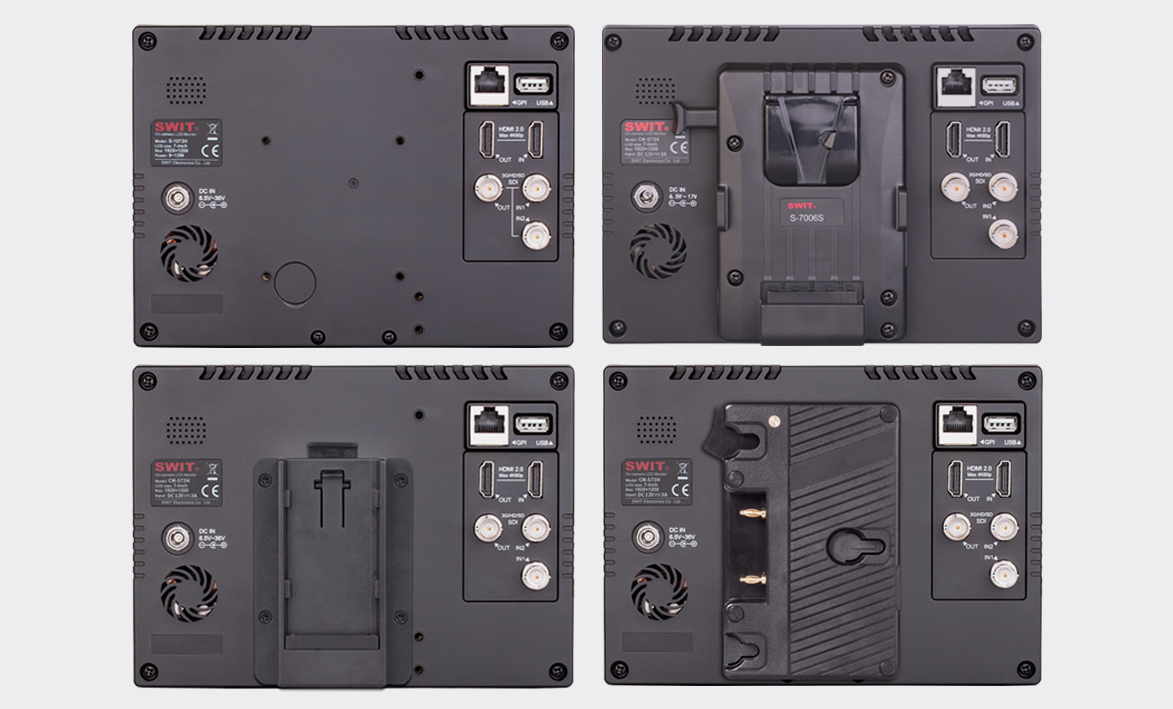 Various DV Plate Install
V-mount / Gold mount / DV mount
CM-S73H supports DC 6.5-17V input via a 5.5mm lockable DC socket, and can install SWIT S-7006 series V-mount / Gold mount / DV battery plates to power.
*Using S-7006F/D/B/I/C, the Max brightness will be reduced to 2000nit.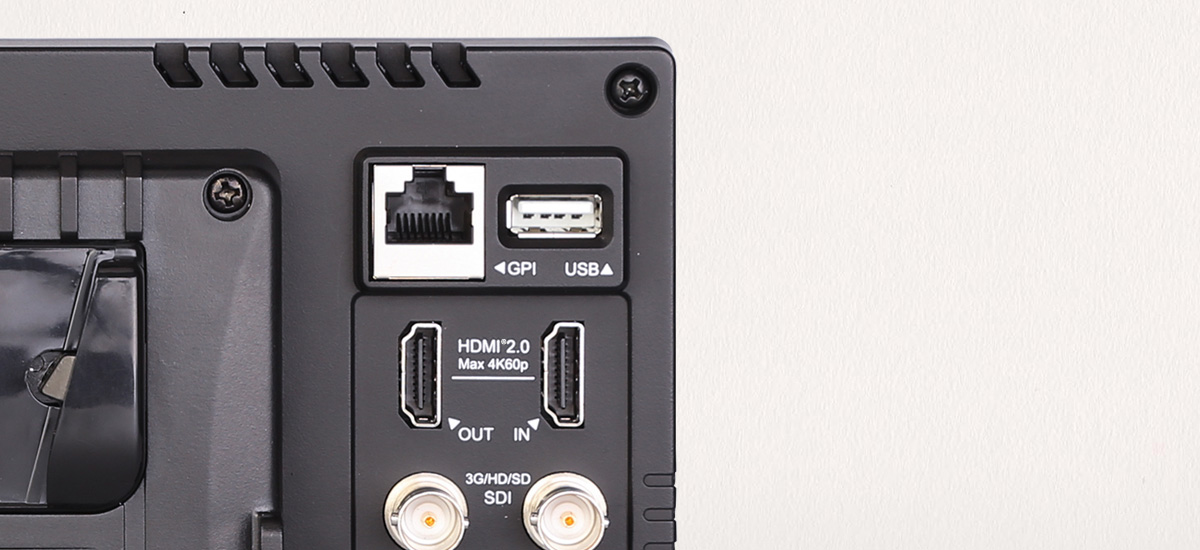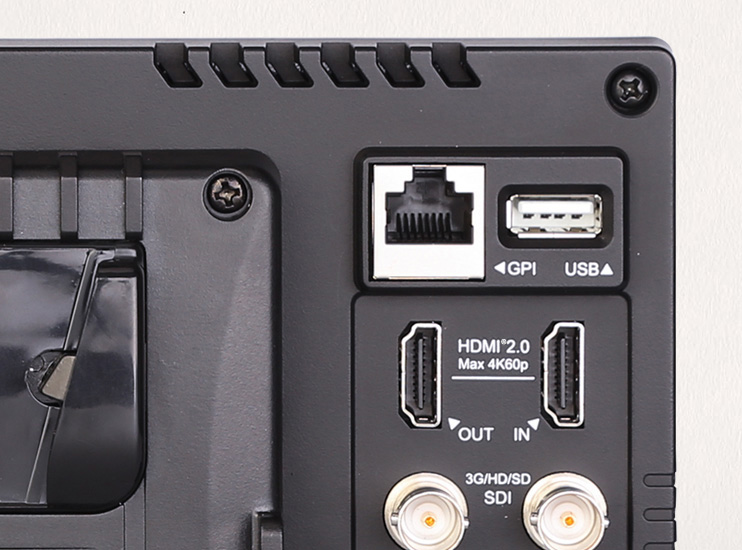 USB Firmware Upgrade
The monitor provides a standard USB port on the rear panel, for firmware upgrade. Users can download the latest firmware file to a USB stick, and directly insert into CM-S73H monitor to upgrade, without PC connection.

LCD Performance
| | |
| --- | --- |
| Size | 7 inches |
| Display area | 151.2×94.5mm |
| Resolution | 1920×1200 |
| Aspect ratio | 16:10 |
| Brightness | Max 3000cd/m2 |
| Contrast | 1200:1 |
| Color | 16.77 million colors |
| Viewing angle | Horizontal: 160°; Vertical: 120° |
Input
| | |
| --- | --- |
| BNC ×2 | 2K/3G/HD/SD-SDI input |
| HDMI-A ×1 | HDMI 2.0 input |
| USB ×1 | Firmware upgrade |
| RS485 ×1 | GPI (Tally) input |
Output
| | |
| --- | --- |
| BNC ×1 | 2K/3G/HD/SD-SDI loop output |
| HDMI-A ×1 | HDMI 2.0 loop output |
| 3.5mm ×1 | SDI, HDMI embedded audio output |
Video Format
SDI

2048×1080p (60 / 59.94 / 50 / 30 / 29.97 / 25 / 24 / 23.98)

2048×1080i (60 / 59.94 / 50)
1080p (60 / 59.94 / 50)
1080i (60 / 59.94 / 50)
1080p (30 / 29.97 / 25 / 24 / 23.98)
1080psf (30 / 29.97 / 25 / 24 / 23.98)
720p (60 / 59.94 / 50)
480i (59.94)
576i (50)

HDMI

4096×2160p (60 / 50 / 30 / 25 / 24)
3840×2160p (60 / 50 / 30 / 25 / 24)
480i/ 576i / 480p / 576p
1080i (60 / 59.94 / 50)
720p (60 / 59.94 / 50)
1080p (60 / 59.94 / 50 / 30 / 29.97 / 25 / 24 / 23.98)
General
| | |
| --- | --- |
| Input voltage | DC / battery 6.5V-17V |
| Power consumption | ≤26W |
| Working temperature | 0°C~+50°C |
| Working humidity | 10%~90% |
| Storage temperature | -15°C~+60°C |
| Storage humidity | 10%~90% |
| Dimensions | 187×137×41mm |
| Net weight (main body) | 500g |