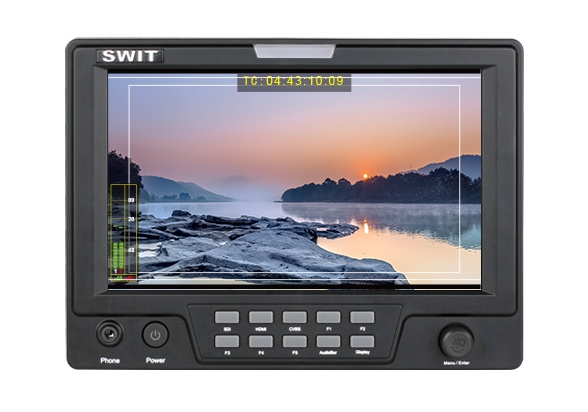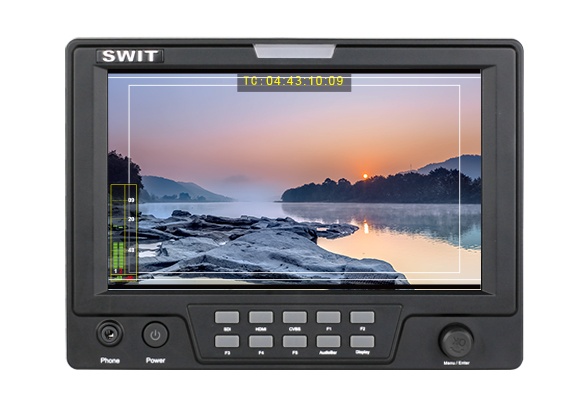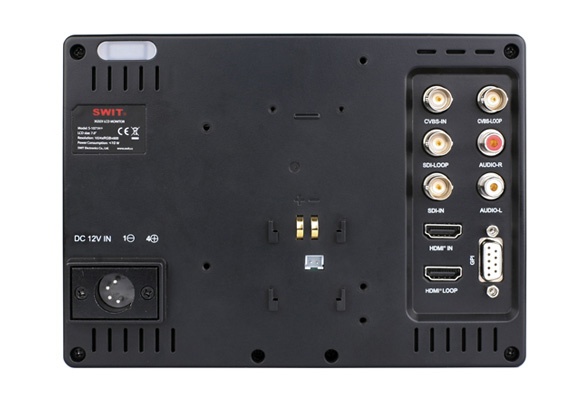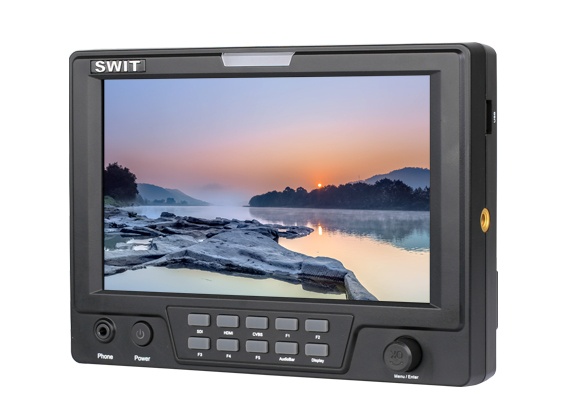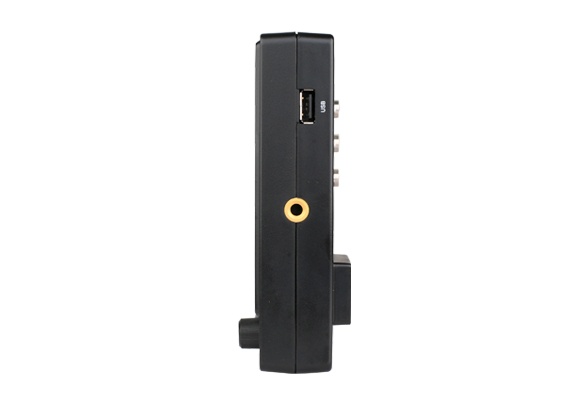 › 7" FFS-IPS LCD, 1024×600, H/V 160°viewing
› 2K/3G/HD/SD-SDI, HDMI, CVBS monitoring

› 2-ch Embedded audio meters with alert
› AFD, H/V delay, R/G/B/Mono, False color
› TSL UMD and text TALLY display
› Zebra stripes, Peaking focus assist
› SDI timecode display
› Marker 4:3, 13:9, 14:9, 15:9, 1.85:1, 2.35:1
› Front / Rear TALLY light and GPI control
› V-mount, Gold mount or snap-on DV mount
› USB firmware upgrade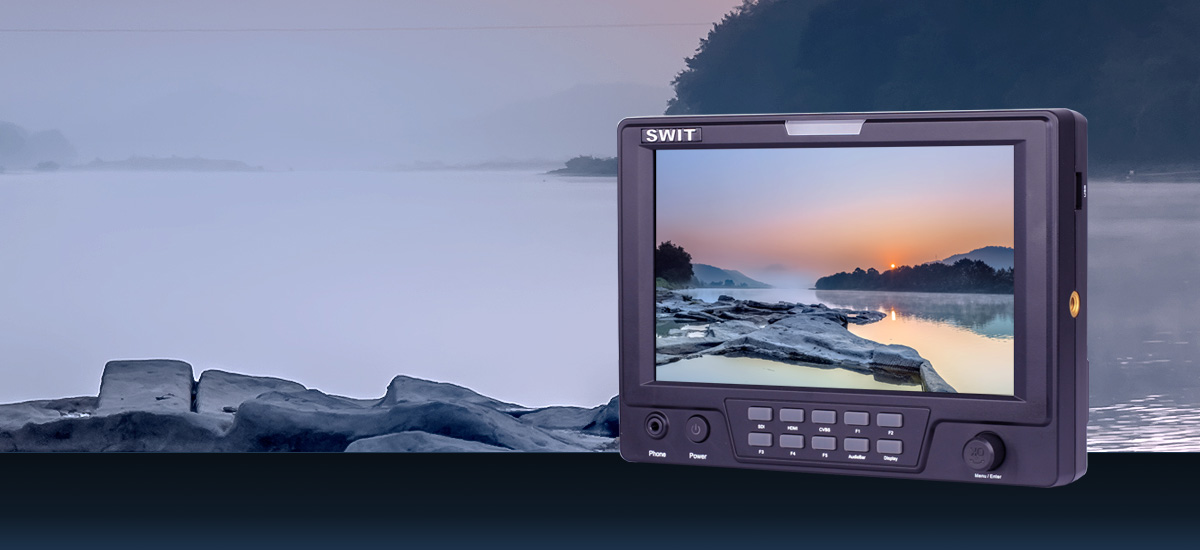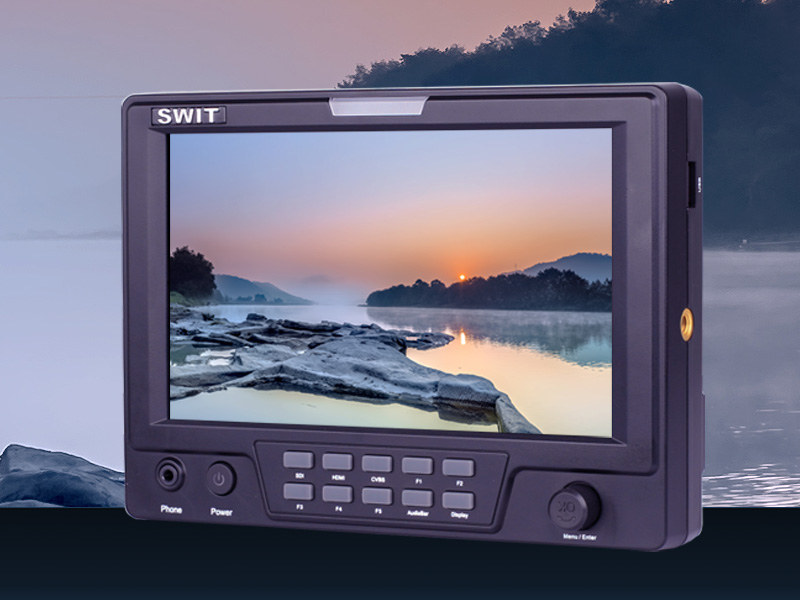 7-inch LCD Panel
FFS-IPS panel with LED backlight
The S-1071H+ adopts a 7-inch FFS-IPS LCD panel, with 1024×600 high resolution and LED backlight, 900:1 contrast, 8-bit color depth, H/V 160° viewing angle.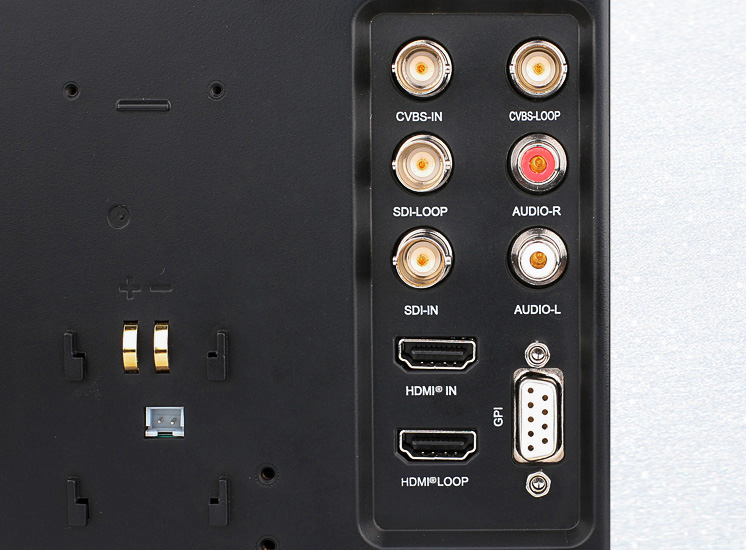 Input/Output Interfaces
SDI / HDMI / CVBS / Analog Audio
S-1071H+ monitor supports:
2K/3G/HD/SD-SDI input × 1
2K/3G/HD/SD-SDI loop output × 1
HDMI input × 1
HDMI loop output × 1
CVBS input × 1
CVBS loop output × 1
RCA analog audio input L×1 R×1
RS232 GPI/TALLY input × 1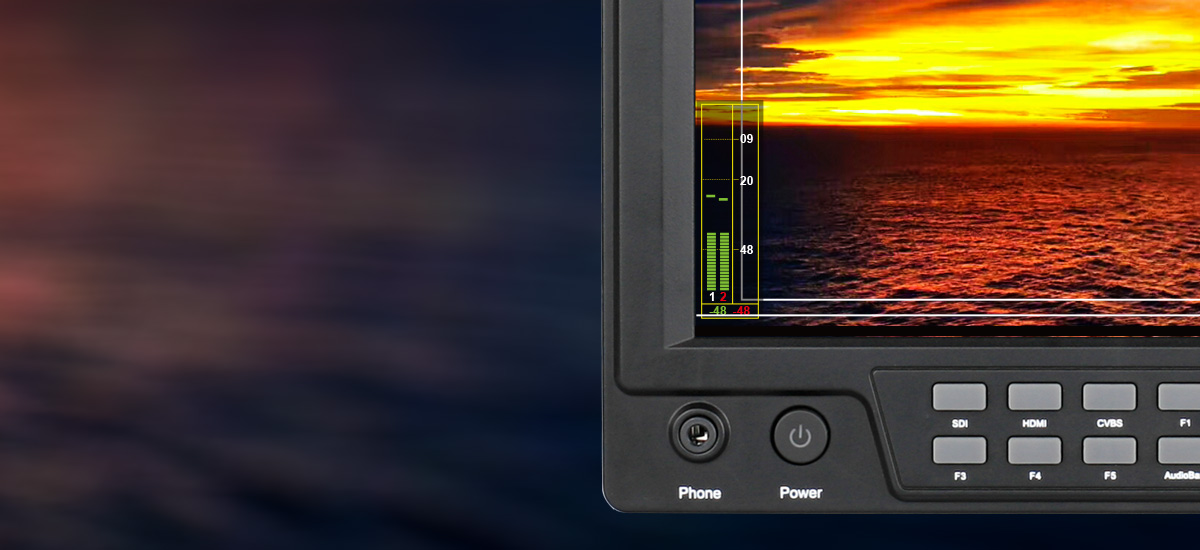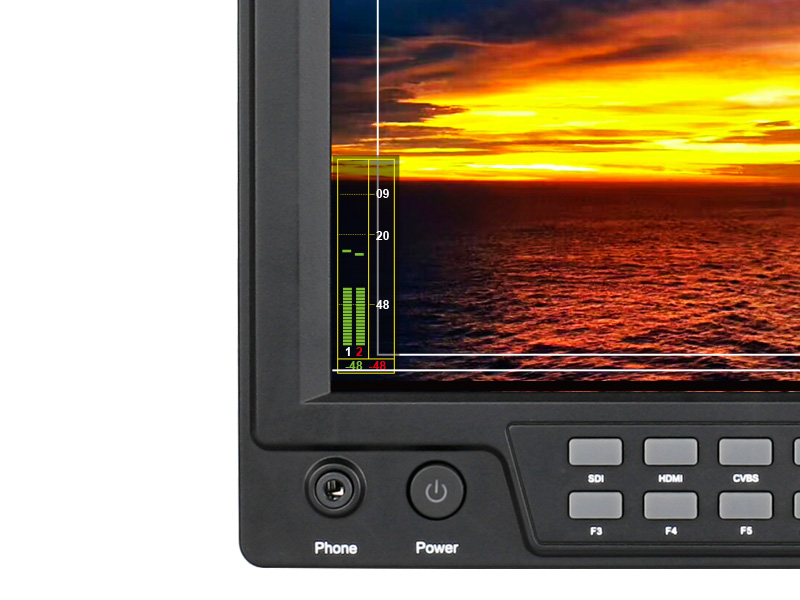 Embedded audio monitoring
2-ch meters with alert
S-1071H+ supports SDI-2ch / HDMI-2ch embedded audio meters and Analog 2-ch audio meters display, with marks and audio abnormal alert info. The audio meter pattern position can be selected from one of four corners, and the scale markers, alert info, and translucent of the audio meter pattern are selectable.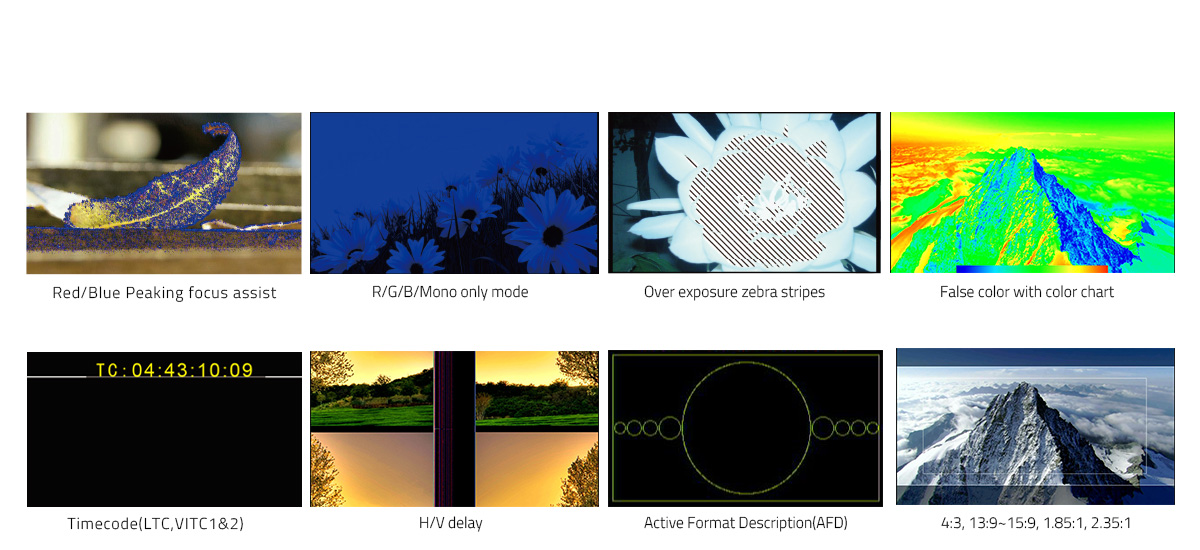 Peaking, R/G/B/Mono only, Zebra, False color
Timecode, H/V delay, AFD, Scale Markers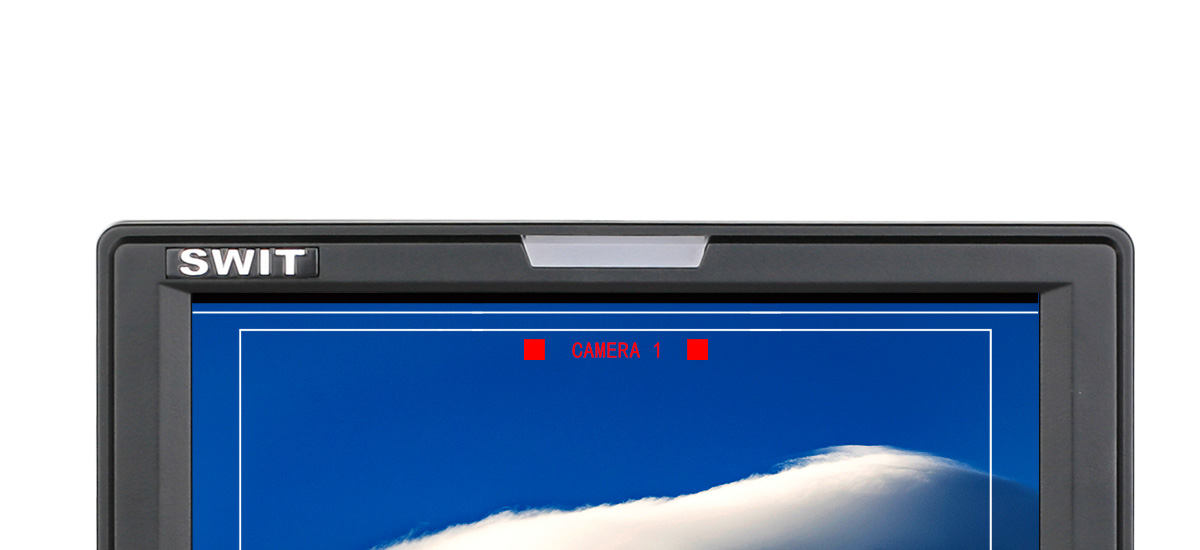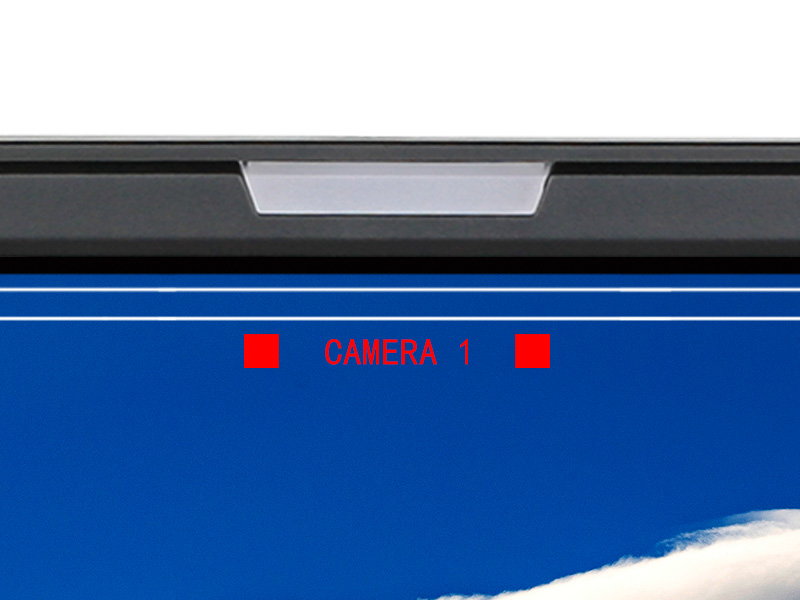 UMD and Text-Tally Display
TSL 3.1 / 4.0 Protocol
S-1071H+ supports UMD and Text-Tally display of TSL 3.1/4.0 protocol, with 1-126 TSL address selection, and Max 8 letters displayed. The UMD/TALLY signal inputs via RJ45(RS485) port on the rear panel of the monitor.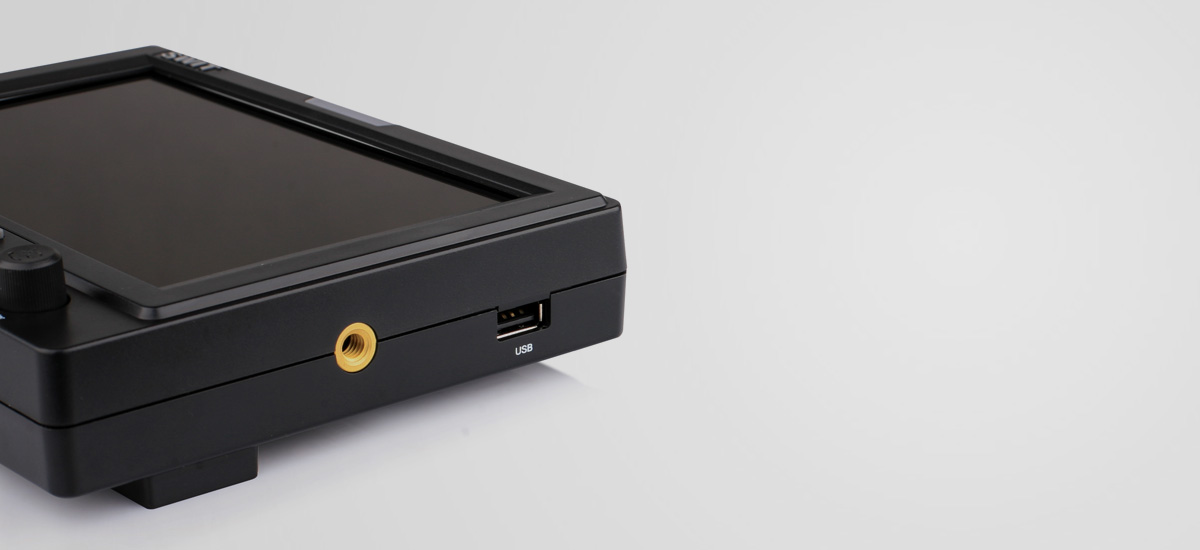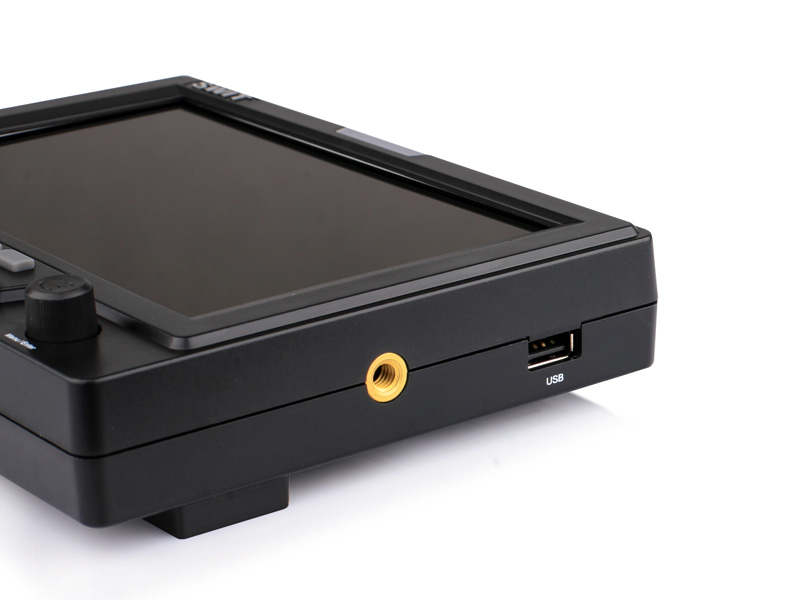 USB Firmware Upgrade
The monitor provides a standard USB port on the rear panel, for firmware upgrade. Users can download the latest firmware file to a USB stick, and directly insert into S-1071H+ monitor to upgrade, without PC connection.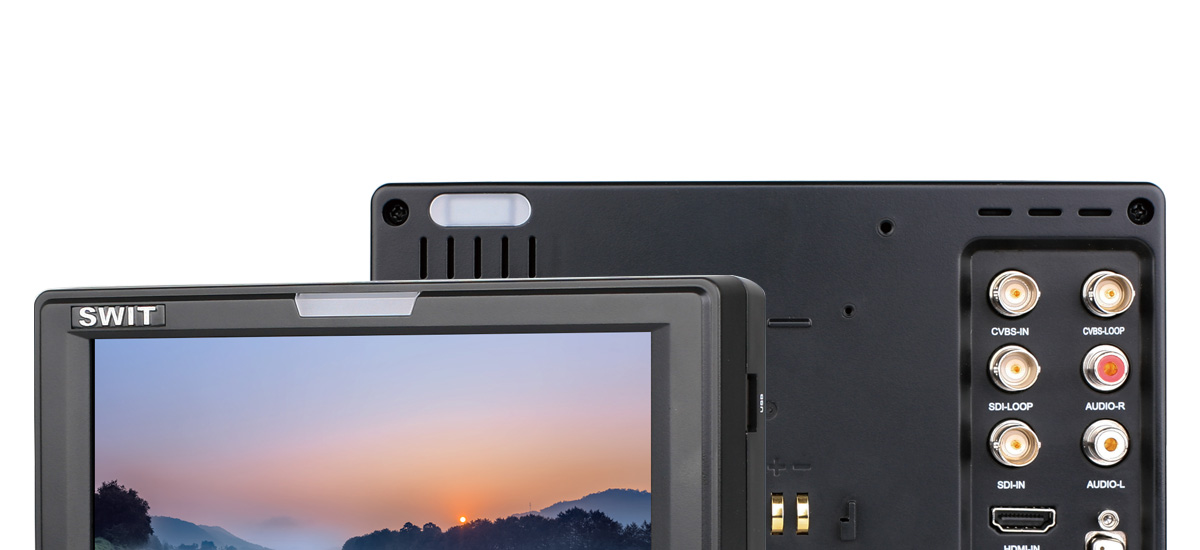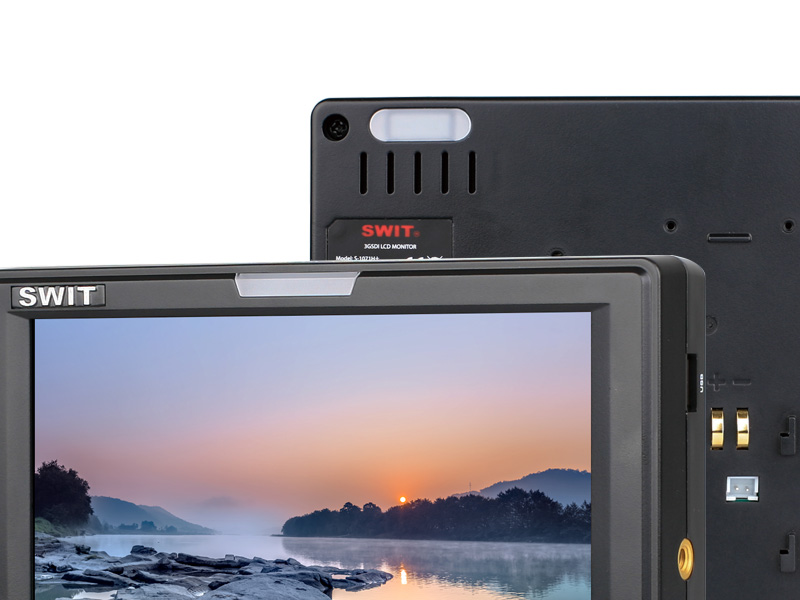 Front & Rear TALLY Light
There are front and rear TALLY lights of Red, Green and Yellow colors, and users can define the pins of RS232 port to control the TALLY lights.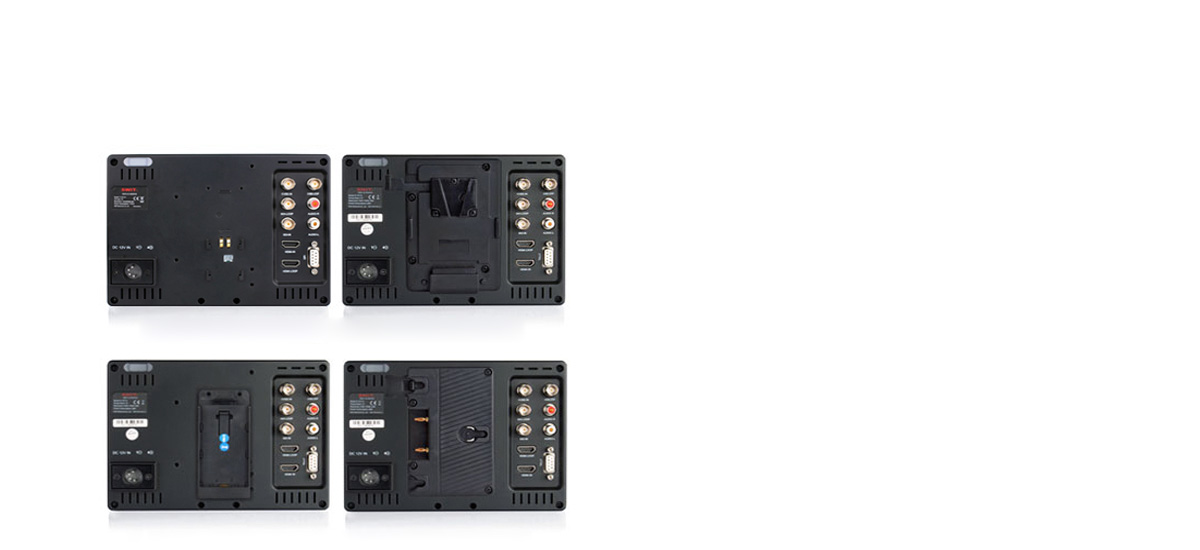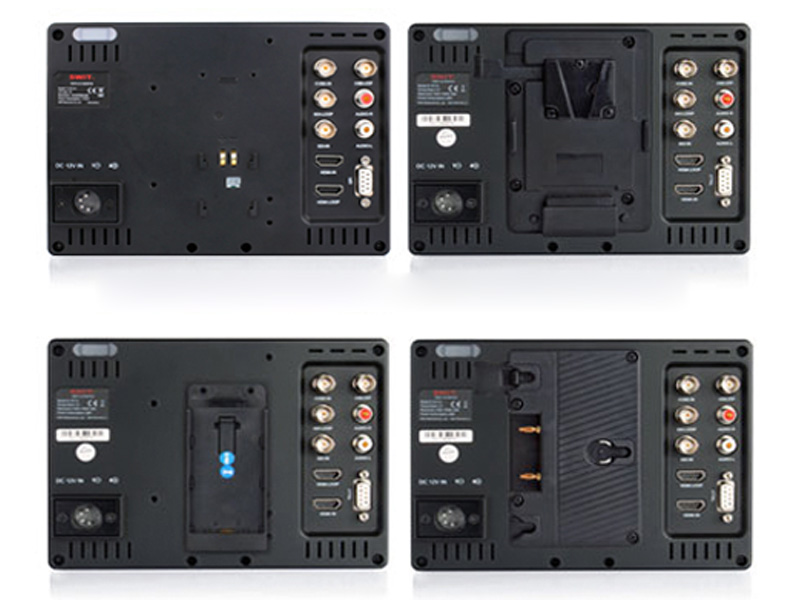 Multiple Power Sources
The monitor provides a 4-pin XLR socket of DC 6.5-17V power input, and can be fixed on V-mount, Gold mount or DV battery plate. Various types of DV battery plates are provided for optional, with snap-on designed, quick released and interchangeable with each other.

Plate
Compatible batteries
S-7004A
Gold mount batteries
S-7004S
V-mount batteries
S-7004F
SONY NP-F970/770
S-7004U
SONY BP-U60/U30
S-7004D
Panasonic D54/D28

Panasonic VW-VBD58, AG-VBR59

S-7004B
Panasonic VW-VBG6
S-7004V
JVC BN-VF823
S-7004I
SSL-JVC50
S-7004C
Canon BP-945/970G
S-7004E
Canon LP-E6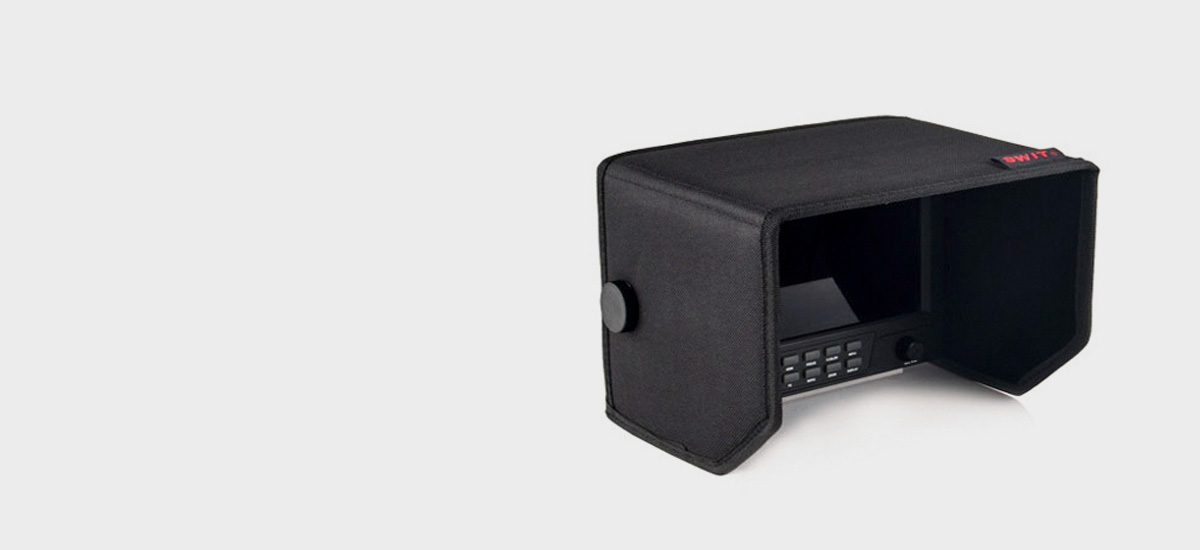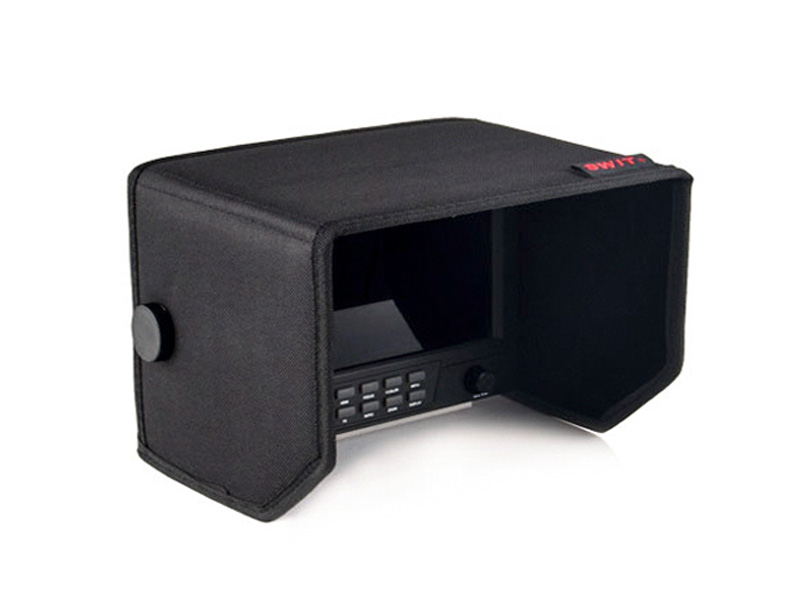 Sun Hood
For outdoor using, you can apply a sun hood on the monitor. The sun hood can be easily installed via the left and right screw threads, or directly by Velcro tapes.
The sun hood is provided in the monitor package.

LCD Performance
| | |
| --- | --- |
| Size | 7 inches |
| Display area | 153.6×90mm |
| Resolution | 1024×600 |
| Aspect ratio | 16:9 (4:3 adjustable) |
| Brightness | 400nit |
| Contrast | 900:1 |
| Color | 16.77 million colors |
| Viewing angle | Horizontal: 160°; Vertical: 160° |
Input
BNC ×1

2K/3G/HD/SD-SDI input

BNC ×1

Composite input

HDMI ×1

HDMI input

RCA ×2

Analog audio input L ×1 R

×1
Output
| | |
| --- | --- |
| BNC ×1 | 2K/3G/HD/SD-SDI loop output |
| BNC ×1 | Composite loop output |
| HDMI ×1 | HDMI loop output |
| 3.5mm ×1 | SDI, HDMI, Analog audio output |
Video Format
SDI

2048×1080p (60 / 59.94 / 50 / 30 / 29.97 / 25 / 24 / 23.98)

2048×1080i (60 / 59.94 / 50)
1080p (60 / 59.94 / 50)
1080i (60 / 59.94 / 50)
1080p (30 / 29.97 / 25 / 24 / 23.98)
1080psf (30 / 29.97 / 25 / 24 / 23.98)
720p (60 / 59.94 / 50)
480i (59.94)
576i (50)

HDMI

480i/ 576i / 480p / 576p
1080i (60 / 59.94 / 50)
720p (60 / 59.94 / 50)
1080p (60 / 59.94 / 50 / 30 / 29.97 / 25 / 24 / 23.98)
1080psf (30 / 29.97 / 25 / 24 / 23.98)

CVBS

PAL / NTSC
General
| | |
| --- | --- |
| Input voltage | DC / battery 6.5V-17V |
| Power consumption | ≤10W |
| Working temperature | 0°C~+40°C |
| Working humidity | 10%~90% |
| Storage temperature | -15°C~+60°C |
| Storage humidity | 10%~90% |
| Dimensions | 192×139×47mm |
| Net weight (main body) | 550g |